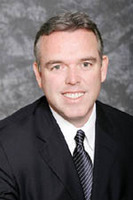 We are eager to show the Russian automobile dealers conference some of the tools we are using in the states which are making our American dealers very successful
Cedar Falls, IA (PRWEB) August 23, 2008
Mudd Advertising, the nation's largest privately owned auto ad agency announced today that founder, Jim Mudd Sr., and automotive advertising expert and president of the company's agency division Rob Mudd, will visit Russia to attend the first Russian Automobile Dealers Professional Conference in Moscow.
Rob will join a round table discussion with key Russian dealers in the Russia Federation's counterpart to the N.A.D.A. (National Automobile Dealers Association) Convention. He will also take part in a question and answer session with some of the largest dealer groups in the ever-growing Russian automotive market, where Rob will share his proven advertising and marketing philosophies that he has so successfully applied to the auto industry.
Rob will also meet with the Dmitry Gulin, president of R.O.A.D (Russian Association of Automobile Dealers), and co-owner of the largest automotive retail groups in the country, AvtoMir. R.O.A.D is Russia's professional association of automobile dealers and has been instrumental in establishing the automotive market in Russia.
The Russian market is one of the fastest growing markets in the world and the largest in Europe, having just surpassed Germany in July 2008.
The Russian market is predicted to be the third largest in the world by year 2012, behind only the U.S. and China, according to Russian ad agency Avtostat.
AvtoMir is the highest volume automotive dealership group in Russia with retail sales of over 87 thousand vehicles in 2007 and a forecast of over 100,000 in 2008.
Mudd Advertising looks to apply its North American retail automotive marketing expertise to this expansive growing marketplace through a consultancy relationship. The presentation will include some of the company's latest advertising tools, AdTracks, a new media campaign tracking portal, among other renowned advertising tools such as Hypercasting and MuddTV.
The conference will take place at the Exhibition Crocus Exposition Center in Moscow, the largest exhibition venue in Russia to conduct and organize national and international exhibitions. The conference will take place on August 27, 2008. "We are eager to show the Russian automobile dealers conference some of the tools we are using in the states which are making our American dealers very successful," said Rob Mudd.
Jim Mudd Sr. founded Mudd Advertising in 1981, with just one client. Today the agency serves over 3,000 clients nationwide. Mudd Sr. currently serves as chief spiritual officer. Rob Mudd, son of Jim Sr., is directly responsible for all new business development. He routinely consults some of the most prestigious high volume automotive dealerships on their advertising and marketing strategies in their efforts to grow market share. Rob has been instrumental in the success of the agency business at Mudd Advertising, having doubled the company's sales and size since 1999.
About Mudd Advertising
Founded in 1981, Mudd Advertising is the nation's largest privately owned automotive advertising and marketing agency. Mudd Advertising works with nearly 3000 clients in all 50 states, and delivers results through strategic planning, creative advertising, and integrated marketing. Headquartered in Cedar Falls, Iowa, with offices in downtown Chicago, Los Angeles, and Nashville, Mudd Advertising employs nearly 200 talented individuals nationwide. Mudd Advertising has risen to become one of the country's largest direct mail companies, and boasts a state-of-the-art production studio with the capabilities to provide a full range of marketing services including advertising, database management, direct marketing, production, Internet, public relations, training and consulting. http://www.mudd.com. We love it when you succeed.
###