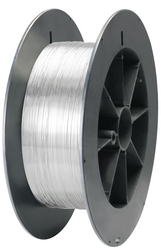 NitiBrite™ represents a revolutionary new process for Nitinol (also known as 'Shape Memory Alloy' or 'SMA') wire
West Chester, PA (PRWEB) August 26, 2008
Johnson Matthey has introduced NitiBrite™ Nitinol (NiTi) Wire. NitiBrite™ is a break-through Nitinol wire product which features an exclusive one-step oxide removal process that completely eliminates the toxic Hf acid solutions which cause embrittlement. Unlike other methods used to create oxide-free Nitinol wire, the NitiBrite™ process does not involve acid etch or costly mechanical polishing. Additionally, since there are no toxic byproducts generated, the process supports corporate sustainability efforts. The resulting NitiBrite™ Nitinol Wire (available in diameters of 0.020" to 0.040" in continuous spooled lengths) has a smoother, shinier surface unattainable through other known methods.
"NitiBrite™ represents a revolutionary new process for Nitinol (also known as 'Shape Memory Alloy' or 'SMA') wire," says Joseph Kain, Nitinol Technical Specialist for Johnson Matthey. "Most of our competitors employ an acid strip process that uses a toxic Hf solution. Not only does this acid-etch process cause surface variability and/or premature wire fatigue, but it also generates toxic byproducts that must be disposed of. NitiBrite™ eliminates all of these problems while providing a much more esthetically pleasing product."
Johnson Matthey machines, draws, rolls and forms Platinum, Nitinol and Specialty Metals/Alloys to custom specifications. The company specializes in metallurgical processing, engineering and custom alloy development. With manufacturing facilities in Europe and the U.S., Johnson Matthey offers global distribution through multi-country sales locations. More information can be attained by visiting the Johnson Matthey website at http://www.jmmedical.com.
###