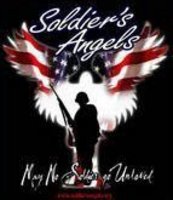 Holidays away from home are very tough on our deployed troops
Pasadena, CA (PRWEB) August 25, 2008
In an effort to allow all Americans to be there for a military person stationed far from home, Soldiers' Angels is offering a 25% discount at the Angel Store on Wrapped in Holiday Spirit care packages for the troops. Customers can order for a specific soldier, or have their gift sent to "Any Soldier" with a personal note of gratitude and support. The discount will be offered through September 30, and all packages will be shipped in late November to deployed troops in Iraq and Afghanistan.
Each Wrapped in Holiday Spirit care package includes a handmade Blanket of Belief, snacks, a stainless steel travel mug, socks, and holiday cards with a personal note of thanks and support. The Blankets of Belief forming the heart of the Wrapped in Holiday Spirit care package are designed to tell America's service men and women, "We believe in you." When they receive a Blanket of Belief, service members will know that somebody back home remembered them, that somebody labored over a handmade blanket with love and belief in them.
This holiday season, Soldiers' Angels plans to provide a total of 180,000 holiday care packages, one for each service member deployed in Iraq and Afghanistan. Founder Patti Patton-Bader points out how important it is for the troops to know Americans believe in them and support them. "Holidays away from home are very tough on our deployed troops," she says. "I cannot say enough about what it means to receive a package when you are deployed. Please be there for a hero this holiday season."
Soldiers' Angels offers additional options for those who would like to help make a service member's holiday season happy, ranging from collecting socks and other care package elements to making blankets (including a no-sew option). Information and ideas can be found on the Wrapped in Holiday Spirit page at Soldiers' Angels.
Care packages at the Angel Store are offered as a convenience for those who support America's troops, giving them an easy way to send a personal message with a gift specifically designed to meet the needs and interests of deployed service members. The cost includes shipping, and any payment above the base cost of the contents helps to fund the many military support projects of non-profit Soldiers' Angels.
SOLDIERS' ANGELS is a volunteer-led 501(c)(3) providing aid and comfort to the men and women of the U.S. military and their families. Comprised of 200,000 volunteer members in over twenty different teams and programs, activities include letters, care packages, and comfort items for the deployed, and support for their families at home. The organization also provides assistance to the wounded, continuing support for veterans, remembrances and comfort for families of the fallen, and immediate response to unique difficulties. See http://www.soldiersangels.org for more information.
###