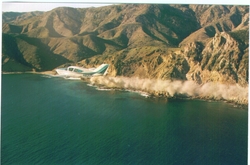 We were searching for the perfect way to provide a needed service which we truly believe in
Santa Paula, CA (PRWEB) August 24, 2008
Scattering remains over a favorite location seems like a wonderful thing to do.
THE PHOENIX FLIGHT offers scattering of cremated remains over the Pacific Ocean for an attractive price. For as little as $295, ashes may be scattered from an aircraft near the beautiful Channel Islands off the coast of southern California.
What about those who do not wish to have remains scattered over the ocean? THE PHOENIX FLIGHT is one of the few companies in California licensed to scatter remains over certain land areas and have permits to do so. Imagine watching the aircraft soaring over a favorite mountain peak or valley, while the family bids a farewell tribute to a loved one.
THE PHOENIX FLIGHT is the proud creation of Glenn True and Maggie Bird, two experienced, long-time commercial pilots with a great love of flying. "We were searching for the perfect way to provide a needed service which we truly believe in," said Ms. Bird. The business has been operating from the Santa Paula, California Airport since 1998.
Services are not limited to California families and locations -- THE PHOENIX FLIGHT has served families from all over the country, including flying to other states for the families to witness the flight ceremony in a favorite location. The company is proud to be a founding member of the National Aerial Scattering Alliance.
THE PHOENIX FLIGHT also caters to owners of pets who have been cremated. "Some of us feel that our pets are family and wish to provide a beautiful and meaningful farewell for them as well as providing complete closure for ourselves," Ms. Bird states.
Rose petals are scattered following the release of remains. Families may request additional options such as music, photography, military honors, or one of the many complete Family Memorial Packages offered.
"Our flights operate under the guidelines laid down by both the FAA and State of California Department of Consumer Affairs, and our records are open to inspection," states Mr. True.
THE PHOENIX FLIGHT information may be found at http://www.ThePhoenixFlight.com. Contact Speedbird@isle.net, 805) 377 3777, 888) 484 0944 toll free, or via the web site at http://www.ThePhoenixFlight.com
"We want to thank you for your courteous and compassionate professionalism ... proceedings were handled with the utmost dignity and the spectacular site you selected for us exceeded what we expected."
# # #