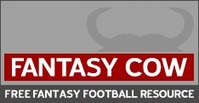 Like Drew Bress better than Payton Manning this year? Simply drag and resort and save.
New York (PRWEB) August 26, 2008
NFL Fantasy Football has gone web 2.0 with FantasyCow.com leading the way. http://www.FantasyCow.com launched publicly August 26th offering an assortment of very unique tools to the fantasy football enthusiast, 100% free to all users.
The home page features dozens of news widgets constantly updating with all the latest NFL football player and team information collected from sources across the web. Members can drag to reposition widgets, showcase a call out section to handpicked current articles, watch videos and read posts from the hottest forum topics, as well as many more useful tools.
"If you are seeking an edge in your league, visit FantasyCow.com for 5 minutes to get all the latest news about your team, while your competition spends hours floating around from site to site all day long." Says Member Mark MacDonald from Atlanta, GA.
"FantasyCow.com has become my new homepage and I am slowly losing the dependency I once had on other sites. Fantasy news 'One Stop Shopping' has been introduced and welcomed." Reports Todd Finch of Austin, Texas.
Another very exciting product offered is a very unique player rating system. All members can now have the ability to drag and re-rank players. It offers a default rating system where over 700 players are ranked including individual defensive players (IDP). Users can re-rank players and save their positions until draft time when they can easily print out the clean personalized list. Members also have the option to toggle between their personal rankings and the site's default rankings which are frequently updated. "Like Drew Bress better than Payton Manning this year? Simply drag and resort and save." Says John Malloy, president and fellow FantasyCow.com Member.
Beyond the bells and whistles, http://www.FantasyCow.com offers some sound articles, statistic and injury reports, sleepers and breakout candidates, a fantasy player stock market, a very comprehensive depth chart, and message forums which features YouTube.com support.
"FantasyCow.com is an absolute must to add to your Fantasy site Arsenal" and to make it even sweeter, being a member is totally free! Join Today, don't be left behind."
FantasyCow is operated by windex inc.
###