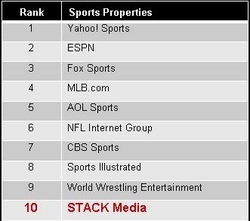 STACK Media's rapid ascent to number 10 reflects increasing fragmentation of the Internet and a significant market shift in the consumption of content today
New York, NY (PRWEB) August 26, 2008
STACK Media today announced its ranking as the #1 online property to reach the coveted active young male demographic--as measured by comScore Media Metrix. With over 3.5 million unique visitors in the U.S. during July 2008, STACK Media jumped ahead of NBA.com and Nascar.com to land as #10 on the prestigious comScore list of Top Sports Web Properties. In addition to mass reach, STACK Media now offers display and video brand advertisers the greatest efficiency against the highly desirable but elusive category of active young (12-to-24-year-old) males online.
STACK Media provides a distributed media content and advertising platform that brings together STACK-owned and operated sites with a limited number of related, market-leading sites, including the renowned sports retailer, Eastbay.com. STACK Media offers advertisers a narrowly targeted and highly customized online vehicle to reach engaged, active and passionate young males online. STACK works closely with its partner sites and brand marketers to create the ultimate digital experience for young males interacting with STACK's unique sports lifestyle content, which is highly differentiated in the online sports marketplace. STACK does not produce sports news and coverage for fans; instead, STACK delivers sports lifestyle and performance information, featuring video of and interviews with star professional and collegiate athletes, for active sports participants.
"STACK Media's rapid ascent to number 10 reflects increasing fragmentation of the Internet and a significant market shift in the consumption of content today," said Nick Palazzo, Co-Founder and Co-CEO of STACK Media. "In the new media world, where the consumer is always in control, STACK delivers exactly what active young males want online--raw, authentic content combined with performance-related services that create a deeply entertaining and relevant experience."
About STACK Media
STACK Media is one of the fastest growing web properties on the Internet with more than 3.5 million unique visitors per month, as measured by comScore Media Metrix in July 2008. A distributed digital and print media company, STACK targets 12-to-24-year-old males, delivering unique and engaging sports lifestyle content--including information on training, nutrition, sports skills, fashion, gear and the entertainment habits of star professional athletes such as Peyton Manning, Allen Iverson, Dwight Howard and Reggie Bush--to millions of young men who aspire to athletic stardom and self-improvement. STACK has a strategic marketing partnership with leading sports retailer Eastbay, a subsidiary of Foot Locker, Inc. Finally, STACK publishes a print magazine aimed at high school athletes, which is distributed via controlled circulation (710,000) in more than 7,400 of the nation's high schools. STACK Media's Board of Directors now includes former IMG senior executive, Peter Johnson. For more information, please visit STACK.com.
# # #