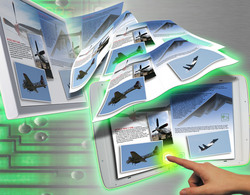 The eTouchBook.com portal centralizes and streamlines the publishing environment to facilitate creating new products
Cincinnati, OH (PRWEB) August 26, 2008
Somatic Digital, a developer of innovative technology-based products for publishers, announced the release and availability of its new Digital Portal and Web Service, eTouchBook.com™.
eTouchBook.com is part of the eTouchBook Suite of hardware and software platform tools that enable publishers and content owners to manage and directly link their print and digital assets.
The eTouchBook Suite provides publishers, for the first time, with the ability to create a hybrid media distribution experience that enables a new ecosystem of transactions, analytics, and interactivity. By turning the regular printed page into a touch screen, it can become a portal to the digital world.
"The eTouchBook.com portal centralizes and streamlines the publishing environment to facilitate creating new products," said Jason E. Barkeloo, Founder & President. Barkeloo concludes that, "eTouchBook.com is the portal for helping publishers reinvigorate their print business by reducing their management costs while leveraging their print and digital assets."
eTouchBook.com provides access to:
1. BookDesigner Web Service - Through a web browser and Internet connection a publisher can dynamically build and test TUI databases before they are deployed out to the eTouchBook Client on their readership's computers.
2. Publisher forums - editorial teams now have a single environment in which to share, archive, and collaborate on publishing projects. The forums facilitate moving from product concept to quickly migrating a finished product to market. The moderators are all Touch User Interface (TUI) technology Instructor-level certificated individuals.
3. eTouchBook Client software, drivers, and support.
4. Publisher-specific Interactive Product catalog.
According to David A. Krauth, co-Founder & Vice President, Software Engineering, "eTouchBook.com encapsulates a system of tools and services and help publishers be more efficient regardless of their adoption of the eTouchBook. Publishers and authors now have an environment in which they can collaborate to solve problems, develop new products, and be more effective in their markets."
About Somatic Digital:
Somatic Digital, LLC is a developer of the Touch User Interface (TUI) technology. This technology creates a "touch screen" out of the printed page by connecting paper directly to digital content that can reside on optical media, the Internet, or hard-drives. It enables a bridge over the digital divide because it eliminates barriers that previously prevented people from connecting to digital content. With the press of a finger, stylus or pointer, a physically, visually, or hearing impaired student can gain access to digital content.
For more information, please visit the Somatic Digital's web site at
http://SomaticDigital.com
Contact:
Laura Fairbanks
Operations Manager
513-322-1638
888.322.5121
http://SomaticDigital.com/about/contact
###