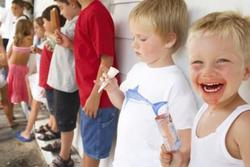 I have three kids, and (the program) made our vacation possible
Destin, FL (PRWEB) August 27, 2008
Vacationing guests weary of skyrocketing fuel costs, airline surcharges and hotel fees are finding real values at http://www.GetMoreVacations.com, a website that directs guests to vacation rental properties that include complimentary golf, deep sea fishing, miniature golf, go-karts, unlimited DVD rentals, wildlife tours, water parks and much more every day of a guest's stay.
GetMoreVacations.com is a user-friendly website that provides guests with simple menus that allow them to choose their destination (Northwest Florida, Coastal Alabama, North Carolina or Texas) and then choose a vacation rental management company at that location that provides them with the amenities they would enjoy most during their vacation stay. GetMoreVacations.com directs travelers to over 7,500 different vacation rental properties that feature a wide variety of vacation activities - from championship golf in Florida to a wild mustang safari in the Outer Banks of North Carolina.
In popular online forums such as TripAdvisor.com, FlipKey.com and WeJustGotBack.com, guests are expressing their enthusiasm for these incentives and the value they provide to families struggling to make the most of their vacation dollars during these economically challenging times.
"We also love the amenities package that Brooks-Shorey (Destin, Florida) throws in (dolphin cruise, round of golf, movie rentals, fishing for the kids) and always make use of it (and they throw in 2 beach chairs and an umbrella each day as well). My husband and I are celebrating our 10th anniversary this summer and we'd planned this grandiose trip to Paris, but we decided we'd rather save our money and spend a week relaxing at the beach. Guess where we're staying?" says GottaGoNowBuhBye on TripAdvisor.com.
"I have three kids, and (the program) made our vacation possible," offered Mrs. Thorson, guest at the Islander Condominium in Destin, Florida.
The Vacation Rental Management Association indicates that the vacation rental industry grew 17 percent over the last year, while PKF Hospitality Research finds that the hotel industry only demonstrated a 3 percent rise in profits for 2008. As the travel industry monitors this significant shift from guests seeking accommodations at hotels to guests enjoying the freedoms afforded them by vacation rental properties, many savvy travelers are moving forward to identify property management companies that provide them with the greatest value for their vacation dollar.
"My family has just returned from a week long vacation at the Blue Surf (Destin, Florida). It was our first true 'family' vacation with our two young children, ages 2 and 3. The Blue Surf exceeded our expectations and provided the perfect environment for our young family. As a side note, the management company we used (Newman-Dailey) provided a 'family fun pack' with discounts and tickets, including a free round of golf for each day, free movie rentals, tickets to the local amusement park and tickets for a dolphin cruise. With a young family and a husband that golfs, this was a huge bonus! I think I've more than conveyed our satisfaction with the Blue Surf! We are already looking forward to returning in the future!" enthuses SurroundedByBoys on TripAdvisor.com.
"(http://www.GetMoreVacations.com) goes to great lengths to determine what the best activities are in an area - what are the things that visitors want to do most - and then we combine those activities into one convenient, accessible and valuable program. And it's not a 'one and done' deal, either. You can do these things every day of your vacation if you like. Getting away to a new or to a favorite destination is great, it's great to recharge if you can, but these are the things that make vacations fun and more importantly, memorable. In these times when many people are choosing whether or not they can even have a vacation, this program affords guests the opportunity not just to have one, but to have a great one," say Ron Szuchy, director of sales at Amenity Services Inc., GetMoreVacations.com.
###