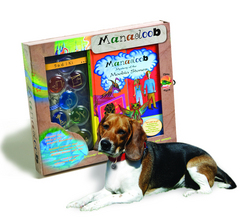 We are thrilled to partner with Best Friends to introduce this special property and to support the Best Friends Animal Sanctuary
Ventura, CA (PRWEB) August 26, 2008
Sadiki LLC today announced a partnership with Best Friends Animal Society to launch the Manadoob, an all-new integrated lifestyle brand targeting children ages eight and older, as well as anyone who is curious about the special connection that exists between humans and animals.
Extensive research studies conclude that the natural bond between humans and animals contributes to a healthier quality of life for both species. Following the success of her award-winning documentary about the positive benefits of animal assisted therapy for children, June A. Salin, created The Manadoob, a team of ancient mystical animals who appear on Earth to befriend children and help them discover how humans and animals can work together to make the world a better place.
The world of The Manadoob comes alive for children through an illustrated novel and game, together with an interactive website, that invites children to join these mystical animals on their adventures. By imparting their wisdom learned over thousands of years, the Manadoob teach kids to listen to their hearts and to believe in themselves.
The Manadoob Secret Connection Kit includes the illustrated novel, Manadoob, Mystery of the Moobia Stones; 16 multi-colored Moobia Stones, uniquely hand-engraved with a special symbol imparting messages of wisdom from the Manadoob; The Moobia Stone Guide Book; a fully-lined drawstring Moob-It pouch to hold the stones; and a faux leather "Sadiki" wristband. The first 500 Secret Connection Kits ordered will receive a free Sadiki wristband (SRP: $14.95) to share with a friend.
Additionally, to support the launch, Sadiki LLC and Best Friends Animal Society have created a special Manadoob/Best Friends Celebration Charm which can be attached to the Sadiki wristband.
The Manadoob Secret Connection Kit (SRP: $39.95) and the Manadoob/Best Friends Celebration Charm (SRP: $9.95) are available through the Manadoob website and the Best Friends Animal Society website, with additional retail outlets anticipated leading up to the holidays. The Manadoob will donate to Best Friends Animal Society up to 50% of gross profits on all purchases.
Connected with the launch of The Manadoob, the Society will debut a sponsorship site for the Best Friends Moobia Stone Animals later in the year. Fourteen Best Friends animals will be named after each of the Moobia Stones to reflect their unique characters.
"We are thrilled to partner with Best Friends to introduce this special property and to support the Best Friends Animal Sanctuary," said June A. Salin, managing partner, Sadiki LLC and creator of The Manadoob. "Search for the term 'human animal bond' and you will find extensive research in Anthrozoology--the study of the relationship between humans and animals--and the powerful and positive effects this bond has on improving the quality of modern day human life. The Manadoob were created by exploring this special connection between kids and animals, and our intention is that they will serve as a powerful, positive and fun role model for kids."
"There is so much to learn about the ways of the world and this is where the Manadoob step in to help guide the way," added Faith Maloney, an original founder and animal care consultant with Best Friends. "The Manadoob are a wondrous creation of odd looking animals that are very wise and very loving. These ancient animals nurtured and created magical Moobia Stones to help with some of those tough questions we face every day. Manadoob is a story and a game which helps to uncover the deeper meaning of life and inspire a child's imagination to soar. Manadoob also helps give a sense of direction in what can be a very confusing world. This is a wonderful tool for growth and education."
The Manadoob brand is co-created with Susan. R. Cooper. The novel, "Manadoob, Mystery of the Moobia Stones", was written by June A. Salin; and the "Moobia Stone Guide Book" was created and written by Salin and Cooper.
Salin is also the creator, writer and producer of the award-winning documentary, Kids & Animals - A Healing Partnership, which explores the reciprocal healing benefits of the human-animal bond. The documentary, which aired domestically on Discovery Channel's Animal Planet and was distributed and released independently in television markets throughout the world, was Salin's inspiration for "The Manadoob".
Please visit manadoob.com and bestfriends.org for more information.
About Sadiki LLC:
Sadiki LLC was founded by June A. Salin and Susan R. Cooper, co-creators of the Manadoob brand, and Janis Salin. Based in Ventura, California, the company's mission is to explore and share the secret and special bond between humans and animals and to empower children of all ages to believe in themselves. The Manadoob is an integrated lifestyle brand targeting children 8, featuring a comprehensive consumer products program including an online web community, all devoted to the self-empowerment of our youth. Salin's earlier documentary, Kids & Animals -- A Healing Partnership, has become an important and widely used teaching/educational tool in numerous organizations impacting thousands on the importance of animal assisted therapy and the wonders of the human-animal bond. Salin has a Masters Degree in Journalism/Mass Communications and has founded a number of companies in the field of television and film production. Cooper's background is in television production and publicity. She held executive positions with Haim Saban's Saban Entertainment for many years until the company was sold to The Walt Disney Company.
About Best Friends Animal Society:
Best Friends Animal Society, one of America's foremost animal rescue organizations, operates the country's largest sanctuary for abused and abandoned animals. On any given day, Best Friends Animal Sanctuary, located in southwestern Utah, is home to approximately 2,000 dogs, cats, horses, rabbits, birds, and other animals. Founded in 1984, Best Friends advances nationwide initiatives by working with shelter and rescue groups around the country. The society also publishes Best Friends magazine, the nation's largest general interest, pet-related magazine with approximately 300,000 subscribers.
###