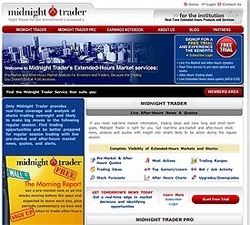 the profit potential of these key earnings events
Washington, D.C. (PRWEB) August 27, 2008
MidnightTrader, a leading source of real time pre-market and after hours stock news and quotes, announced that they will now offer Earnings Event Trading Webinars to investors for free. A Webinar is a live conference conducted online that is an ideal way to help educate investors looking to put current stock news and after hours trading activity to work for them.
"I'm particularly excited to be able to offer our Earnings Event Webinars to investors for free. By free, I mean no commitment or credit card is required to take advantage of these sessions. Based on stock news and after hours trading information, the free webinars are designed for the active trader, or anyone looking to better understand how to invest in the stock market," said Brooks McFeely, CEO of MidnightTrader.
Interested readers can register at http://www.aiqsystems.com/midnighttrader/MTPROwebinars.html to be notified of upcoming events.
"When a company has an earnings event, often the stock news will trigger a huge spike (or fall) in after hours trading. You need more than just after hours stock quotes to take advantage of these events -- you need a plan. Free Earnings Event Webinars are a great way for investors to "test-drive" the profit potential of these key earnings events," said McFeely.
If readers don't want to chance missing any of the webinars, MidnightTrader offers a paid subscription called the MidnightTrader Pro program that guarantees they'll be included in their weekly Webinar. So that investors can gauge the program's success, MidnightTrader offers a free 2-week trial subscription to test drive the program as well. Guests can gain full access to the Midnight Trader Pro Program for 2 weeks by completing the online form located on their website.
As an example, in a recent subscriber earnings event webinar, MidnightTrader featured RF Micro (RFMD) as a consistent earnings reaction stock. Over the long term, RFMD is just favoring a widening trend, with more aggressive next day trade in 10 of the last 17 quarters. In the near term, it has shown three wider moves in the last four quarters. 80% of the time this stock has followed through in the same direction by the close of the day regular session compared to the Extended Hours "effective close".
When it followed through, the price closed further in the same direction on average by 7% (in 4 events) from the "effective close." MidnightTrader webinar attendees had the information and insight of professional stock traders to apply their newfound knowledge to the stock that very night. In addition to RFMD, MidnightTrader has had Earnings Event Webinars for many additional stocks such as Amazon (AMZN), Corning Inc. (GLW), Agilent Tech. Inc. (A), Crocs, Inc. (CROX) and Kohl's (KSS).
About MidnightTrader: MidnightTrader, is a premier source of stock news and consolidated depth of market data and analytical services for the retail and institutional investment community. MidnightTrader offers free Earnings Event Webinars with no credit card or obligation. Earnings Event Webinars have a rich history is discovering how earnings announcements impact stock price direction and how it to prosper from this information. The MidnightTrader Pro Service is for active traders that want live after hours and pre-market trading news, advanced charting and guidance on extended hours trading. MidnightTrader's extended-hours news and full trading day analytical services empowers both retail and institutional equity traders by providing the information necessary to make the most informed and opportunistic investment decisions.
###