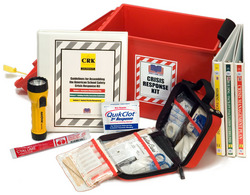 Canton, CT (PRWEB) August 27, 2008
Victor H. Ferry, PhD, a noted school safety and emergency planning expert, today released a statement addressing the issues of school security, emergency planning and crisis response.
"Leading-edge educator training paradigms now include the notion that practices promoting student safety and welfare supersede all other educator responsibilities. While the education of America's young is still the primary function of its schools and education systems, the past decade has notably brought to light the need for increased educator training in school safety, security and emergency management. Gone are the days when educators were allowed to handle threats to student body safety and security, yet few educator training programs or states include required course work in this topic as part of pre-service training or educator certification," said Dr. Ferry.
He continued, "The America School Safety Crisis Response Kit® (CRK) offers a compact method to satisfy this need and to build partnerships with professionals whose day-to-day vocation is the safety and welfare of society. It presents a ready-made safety/crisis preparation kit; a prevention and response plan based on active, successful models, and provides a template for customizing a comprehensive school safety, security and emergency response program in cooperation with local and state officials. Designed by experienced educators and licensed security professionals, its recommendations were developed in concert with Homeland Security publications regarding policies, regulations, practices and training components. In brief, the America School Safety Crisis Response Kit® provides an uncomplicated, logical and common sense approach to school crisis planning and response."
About Victor H. Ferry, PhD
Dr. Victor Ferry is a retired educator and school administrator with extensive experience in emergency management and school safety planning. Having served his community for 24 years as the principal of a school located within the vicinity of three nuclear power plants, his resume includes a graduate scholarship awarded by the University of Connecticut, the Connecticut Outstanding Young Educator Award (community and state level), as well as the National Distinguished Principal from Connecticut Award. Dr. Ferry has authored localized school-level nuclear emergency guidelines and served as project consultant for the award-winning Guidelines for Safe Schools and Emergency Management. He currently provides security consulting services to AmericanSchoolSafety.com, LLC.
About AmericanSchoolSafety.com, LLC
AmericanSchoolSafety.com, LLC is a National Network of Licensed Security Professionals with more than 30 years experience in providing comprehensive safety audit and assessment services to educational institutions throughout the U.S. The patent-pending AmericanSchoolSafety.com Crisis Response Kit® (CRK) is designed for use during building emergencies, critical incidents, and for training and practice of situational response drills.
For additional information regarding AmericanSchoolSafety.com products and services call 1-866-531-6560, or visit the web site at http://www.americanschoolsafety.com.
The U.S. patent-pending Crisis Response Kit® is provided under licensing agreement to AmericanSchoolSafety.com, LLC. ©1999-2008 AmericanSchoolSafety.com, LLC. All rights reserved.
###