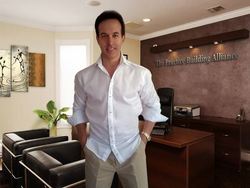 ...that is why chiropractors cannot afford to be average!
Las Vegas, NV (PRWEB) August 28, 2008
Caesars Palace is happy to welcome back Dr. Ben Altadonna as he takes Chiropractic to another level...commited to helping Doctors of Chiropractic become "mainstream" in the eyes of the Medical Community in their area.
"I am so happy that two of the most respected doctors of the Chiropractic profession are on board with me on this project...doctors like Dan Murphy, D.C., DABCO, Steve Yeomans, D.C., FACO and others including a surprise visit from a prominant Medical Doctor."...says Altadonna.
Doctors of Chiropractic from all over the country will be attending this event; doctors who practice "treat and release" chiropractic are who Dr. Altadonna would like to attned.
According to Altadonna, the combination of sheer numbers of Chiropractors and poo r insurance reimbursement has hit many once successful Chiropractors hard. And made it very difficult for new doctors to build a practice...and with the economy in the grips of a poor economy, many chiropractors are literally seeing their once abundant profits evaporate into thin air.
"It's not a pretty future for the average chiropractor..." says Altadonna, "...that is why chiropractors cannot afford to be average!".
In November, Dr. Altadonna's one day event will show doctors how to boost their credibility by building lasting relationships with medical doctors...so that they are viewed very differently by not only medical doctors, but also the public.
Currently, Dr. Altadonna publishes a publication entitled, "The Modern Physician Letter" (For more information, go to: http://www.ModernPhysicianLetter.com)...a publication sent to Medical Doctors on behalf of local Chiropractors; educating M.D.'s on the benefits of conservative chiropractic care and the research that proves its effectiveness.
If you are a practicing "treat and release" Doctor of Chiropractic and would like to learn more about this one day affordable November 7th event to be held in Las Vegas, go to http://www.BeMainstream.com or call 1-800-795-5221.
To learn more about Dr. Ben Altadonna's many products and service...including a newsletter that you can send to your patients that features an article written by "The Oprah Winfrey Doctor", Dr. Michael Roizen, go to: http://www.BenAltadonna.com
###