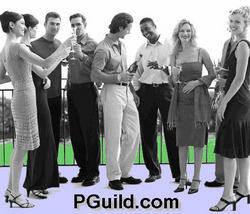 so everyone gets a chance to enjoy their favorite music. At the same time, we are introducing a new cultural elemental into our parties.
San Francisco, CA (Vocus) August 28, 2008
Professionals Guild, the Ultimate Singles Party, announced today that it is hosting two huge singles parties in September:
Sacramento Singles Expo, Trade Show and Party, 9/12, Hilton Hotel Arden West, 7pm
San Francisco Golden Gate Yacht Club, Tango Plus Top 40 Dance Party, 9/19, 7:30pm
Singles Expo/Trade Show and Party
The singles event in Sacramento will be Professionals Guild's 20th annual singles expo and trade show. It will feature about 25 local businesses that offer goods and services of interest to upscale single professionals. Thousands of dollars in prizes will be awarded at the singles expo and trade show.
Date, Time and Location

Fri. 9/12/08, 7pm to midnight
Hilton Hotel Arden West
2200 Harvard Street
Sacramento, CA 95815
Cover: 1/2 price, $12 before 8pm, $25 after.
About 500 upscale singles typically attend the Singles Expo. Here's a partial list of the businesses that will be exhibiting along with the prizes offered:

Social (a new entertainment and social hub in uptown Sacramento) -- Free VIP Booth passes for Social and SandBar
Sacramento New's & Review -- $50 dinner gift certificate & 3 months membership in SN&R's new personals website
Capital City Catering -- gourmet food samples for everyone.
Gold's Gym in Sacramento -- Free six months membership in Gold's Gym
It's Just Lunch, First Date Specialists -- Free membership
Great Expectations, the Nation's Premier Dating Service for Singles -- Free membership
Table for Six, Total Adventures, the Dating Experts -- Free membership
Harmony Henna (modern and traditional henna tattoos, harmonyhenna.com)
RBC Life Sciences -- Eat Chocolate Lose Weight gift pack
Arthur Murray Dance Studio -- Free group class, private lessons, and a party
Bali Wine Bar & Grill -- Free Dinner Gift Certificates
Singles Adventures (singles.meetup.com/590/) -- Wine Gift basket
YourDatingIQ.com -- Free dating course and free pass to a SoulQuest Weekend Seminar
TheUltimateSinglesParty.com -- Free New Years Eve Party Passes
BodySerenity.com -- 60 minutes full body massage -- by winner of KCRA's "Sacramento's Best Massage" contest.
Eldorado Ranch (http://www.mybajaranch.com/rthornhill/ ) -- Free Dinner and Baja Weekend Getaway
Jodettes Belly Dance Academy -- Free belly dance lessons
Love Enhancements (lovesenhancements.com) -- Love Gift Basket
Passion Parties by Mary Beth (http://www.marybeth.yourpassionconsultant.com ) -- Deluxe Adult Toy
Mary Kay Cosmetics (http://www.maryKay.com/kkubek) -- Mary Kay Product Basket
For more information about the Trade Show and Party, see TheUltimateSinglesParty.com or call 916-786-5858. For exhibit space, call 916-300-8700.
The week after the Singles Expo, Professionals Guild will host another singles party, this time in San Francisco at the Golden Gate Yacht Club, a venue with fantastic views of the Bay.
San Francisco Singles Party
Golden Gate Yacht Club
Tango Plus Top 40's Dance Party,
9/19, 7:30pm to midnight
1 Yacht Rd.
San Francisco, CA 94123
Cover $25 cash at the door.
Tango and Rock. This unique party combines two very different dance styles: Argentine Tango and Old School Funk, Soul, and Rock 'n Roll.
Mixer Game. Doors open at 7:30pm and singles can immediately start playing a mixer game. Each person will be given a card with a small print of a painting by Pim Stallmann. The paintings come from Stallmann's tango painting website, tangoschilderijen.nl, and are used with his permission.
Ostensibly, the goal of the mixer game is to find a person of the opposite sex who has the same tango painting. Once party goers find matching cards, they come back to the front desk and get a raffle ticket and another game card so they can continue "to work the room." Later in the evening drawings are held for some nice prizes. The real goal of the mixer game is make it easy for people to chat and make new friends, possibly for dating and romance.
Argentine Tango
At 7:45pm there will be an optional Argentine tango lesson for beginners with no prior dance experience required. This will be a great chance for singles to learn a new social skill and be introduced to something new: the joy of Argentine tango music and dance. Live Music At 8:15 a live Argentine tango band featuring Marcel Puig on guitar and Bocha on bandoneon. A bandoneon is an especially expressive accordion like instrument developed in Germany and an integral part of Argentine tango music.
(Here is a video clip of a bandoneon from an Argentine tango show in San Francisco.)
The tango band will play until 10pm, after that, Miguel a hot DJ from Las Vegas will take over and play mainly old school rock from the 70's, 80's and 90's including Latin favorites like salsa, merenge, and cha-cha-cha until midnight. Some Argentine tango tunes will be thrown into the mix as well to keep the tango theme alive.
"We are mixing Argentine tango with a variety of old school dance hits," said Phil Seyer, director of Professionals Guild, "so everyone gets a chance to enjoy their favorite music. At the same time, we are introducing a new cultural elemental into our parties."
For more information about Professionals Guild, visit their Sacramento Singles and Bay Singles Website -- PGuild.com or call 916-786-5858 or 925-888-4392
Media Sponsors
Future Events
10/10/2008 Grand Opening of SOCIAL, a new entertainment center and nightclub in Sacramento featuring Hip Service Band (see attached photo)
10/31/2008 Halloween Night Special! A Costume party for singles, Holiday Inn on Date Ave. in Sac.
###