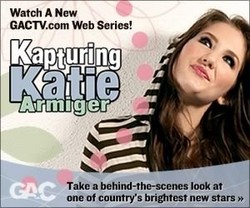 I am so excited because the cameras captured some really amazing moments over the last several months and I cannot wait to share those with fans.
Nashville, TN (PRWEB) August 28, 2008
Katie Armiger has teamed up with Great American Country (GAC) for a six-part exclusive web series entitled Kapturing Katie that will debut online this Monday, September 1st at http://www.gactv.com/katie where fans will get a behind-the-scenes look at one of country music's brightest new stars. Cameras have been following Katie for the last several months capturing real moments surrounding the launch and release of her second album, Believe. The first two webisodes will debut alongside the video for Katie's new single "Unseen," that was shot by well known Nashville director Stephen Shepherd (Gary Allan, Emily West, Josh Gracin). Each Wednesday fans will be able to check out a new three-minute, Kapturing Katie, webisode by logging onto the GAC website at http://www.gactv.com.
Kapturing Katie will give fans an exclusive glimpse into Katie Armiger's life including her first performance on The Riverstage during this year's CMA Music Festival as well an up-close look at the making of her "Unseen" video. To kick off the series September 1st GACTV.com will debut two of the webisodes. The first was shot during her surprise 17th birthday pool party in her Texas hometown and the second shows Katie as she takes part in the Porter Wagoner Memorial Fishing Tournament in Nashville during CMA Music Festival. Other webisodes will include Katie walking in the Country Weekly fashion show, performing a showcase at The Rutledge, as well as special bonus footage/bloopers.
"This is such an unbelievable opportunity for me as a new artist to be able to work with GAC," said Katie. "I am so excited because the cameras captured some really amazing moments over the last several months and I cannot wait to share those with fans."
"We're thrilled to be working with Katie and Cold River Records to deliver this unique web series to country music fans everywhere," explains Jason Mease, vice president and site director at GACTV.com. "We're all about helping fans connect with artists in new and exciting ways. The Kapturing Katie web series delivers on all fronts."
In addition to watching the new web series, fans visiting GACTV.com can browse an extensive photo gallery and vote for Katie's new video "Unseen" on the GAC's Top 20 Country Countdown.
For more information on Katie you can visit her website at http://www.katiearmiger.com.
About Great American Country (GAC)
Great American Country is the leader in country music entertainment. GAC delivers to viewers the widest variety of country music, its artists and the lifestyles they influence. GAC broadcasts original country music programming, country music performance specials, live concerts, music videos, and is the exclusive television home of the Grand Ole Opry. GAC is available in more than 54 million households and online at http://www.GACTV.com.
SN Digital
A division of Scripps Networks, SN Digital is a diversified, multi-platform programmer that delights millions daily with award-winning content in the home, food and living categories. SN Digital's Web sites -- HGTV.com, FoodNetwork.com, DIYnetwork.com, FineLiving.com, GACTV.com, Recipezaar.com, HGTVPro.com; and the newest FrontDoor.com -- are powered by engaging content, interactive tools and social spaces that take fans of Scripps Networks cable brands further into the story and offer online users information and inspiration to fuel their passions. SN Digital also distributes content to mobile and online partners, providing lifestyle solutions virtually anywhere, anytime.
###