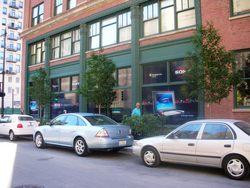 This campaign showcases Monster Media's industry-leading technology, which allows us to create points of interaction with advertisers' products and services
Orlando, FLA. (PRWEB) August 27, 2008
Monster Media, the industry leader in dynamic digital interactive advertising for storefronts, public spaces and sports and entertainment venues, unveiled its newest campaign today - a four-location storefront interactive installation for the new line of Sony Vaio computers featuring Sony's HDNA branding.
The campaign includes installations in four locations - one each in New York, Los Angeles, San Francisco and Chicago. The installations all utilize Monster Media's patented, first-in-the-industry MonsterVision WindowFX technology, through which Monster Media converts vacant storefronts into interactive displays. The locations were secured in conjunction with Monster Media's real estate partner, Inwindow Outdoor, which specializes in providing prime storefront locations to advertisers.
When people walk past the store windows featuring the Sony ads, pages turn to reveal different models and features of the Sony Vaio line. Light-pulsing graphics change colors, highlighting the high-definition technology of the laptop and desktop computer products. The storefronts also feature Sony's signature, multi-color DNA strand branding running through the middle that warps and moves as passers-by wave their hand in front of the display.
"This campaign showcases Monster Media's industry-leading technology, which allows us to create points of interaction with advertisers' products and services," said John Payne, president of Monster Media. "Our WindowFX technology takes ordinary storefronts and brings them to life, so passers-by aren't just seeing a picture of a laptop, they are exploring its features. It's more captivating than a static billboard."
A video of the installation is available at: http://www.monstermedia.net/video.php?sony_winfx_promo
Monster Media is the leader in the development of innovative out-of-home advertising platforms, including motion-activated interactive campaigns, and currently has numerous interactive advertising campaigns in operation in major markets around the world.
Monster Media installations consist of large-format applications on storefronts, airport walls, transit systems, sports arenas and billboards utilizing Monster Media's pioneering interactive MonsterVision WallFX, WindowFX, ScreenFX and GroundFX technologies.
About Monster Media
Monster Media is an international media company and leading provider of patented innovative alternative advertising products. Monster Media's network of sports and entertainment venues, transit facilities and retail programs are located in many top designated market areas in the United States and Europe. Since its inception in 2004, Monster Media has focused on customer brand interaction and has evolved into a diverse multimedia firm with an expanded product base and media network that allows advertisers to reach consumers across the globe. With Monster Media's various offerings, from permanent locations to mobile and promotional capabilities, advertisers have the ability to engage with consumers both physically and emotionally. For more information, visit http://www.monstermedia.net.
# # #