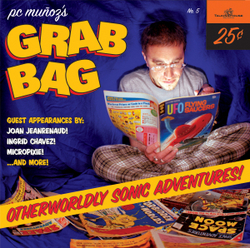 I'm truly a fan of all art forms. My sound as well as my lyrics are influenced by a variety of musical genres like hip-hop, jazz, and funk
San Francisco, CA (PRWEB) August 28, 2008
Songwriter, producer and poet pc muñoz together with Talking House Productions today announced the completion of their latest collaboration, Grab Bag. muñoz combines earthy percussion, poetic lyrics, and electro-funk for his latest musical offering. The album will be available beginning September 9 at http://www.threcords.com.
Grab Bag consists of a dozen original "art-funk" pieces assembled with a wide array of vintage and newfangled electronic instruments as well as organic, time-honored percussion instruments and drums. muñoz, who produced most of Grab Bag and is also a house producer for Talking House Records in San Francisco, deftly juggles the digital, analog, and lyrical worlds.
muñoz's background as a well-respected percussionist and producer provide the inspiration to add his own unique style to the album. Grab Bag has instrumentation ranging from vintage toy keyboards to African and Mayan percussion, and guests ranging from Kronos Quartet veteran Joan Jeanrenaud to former Prince and Madonna collaborator Ingrid Chavez. Somehow, muñoz manages to tie it all together.
"My voice is the thread throughout, as the musical contexts change," he explains. "I'm truly a fan of all art forms. My sound as well as my lyrics are influenced by a variety of musical genres like hip-hop, jazz, and funk," added muñoz. "I also derive inspiration from current social and political issues as well as from my favorite writers like novelist Don DeLillo and hip-hop essayist Greg Tate."
Grab Bag often grapples with questions of humanity, technology and the future. Somewhere in-between lurks muñoz's mysterious, sensual voice. The result is a midnight walk down a long city street, through crowds of people and cigarettes, headlights and laughter, and an underlying search for something spiritual.
About Talking House Productions
Talking House Productions is San Francisco's center for inspired music creation, development and production. Located in the creative heart of San Francisco, the South-of-Market sanctuary features three state-of-the-art multi-tracking and mixing rooms with integrated isolation booths, and one of San Francisco's most versatile large live tracking rooms, to enable a wide variety of ensemble recording situations. The Talking House company of composers, producers, sound engineers, and in-house studio musicians offers decades of experience in creative music and audio production, focusing on Music Composition, Development and Production; Film and Television Scoring; Recording, Mixing and Mastering; Artist Development; and Commercial Audio Programming. More information can be found at: http://www.threcords.com/
About pc muñoz
Recording artist/producer pc muñoz has been releasing innovative, genre-defying music since 1998. In that year, his minimalist art-funk debut, the trouble i'd bring you, was praised by critics worldwide. Since then, pc has released 3 CDs, including 2002's spiritually focused a good deed in a weary world, which entered the CMJ hip-hop charts at #35, and 2004's california, which featured guest turns by rock legend Jackson Browne and Prince and the Revolution keyboardist Dr. Fink. His 2005 collection of haiku and improvised music, twenty haiku, featured improvisations by some of jazz and new music's most compelling players. His recent work as producer includes Strange Toys, the acclaimed sophomore solo CD by former Kronos Quartet cellist Joan Jeanrenaud. Grab Bag is muñoz's first collection of songs for the Talking House label. For more information, visit http://www.threcords.com/pcmunoz
NOTE TO EDITORS and PRODUCERS: pc muñoz is available for interview upon request. Albums are available to media for review.
Media Contact: Allison Neves, 415-948-1200.
# # #