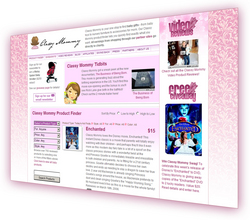 I'm excited to converge my MBA and consumer marketing experience with my new role as a Mommy Blogger. In a tough economy, I'm also thrilled to contribute to the launch of a national campaign that will enable ten moms from across the country to win a year's supply of groceries
Phoenixville, PA (PRWEB) August 28, 2008
Classy Mommy (http://www.classymommy.com), the one stop to find everything from baby toys to nursery furniture and accessories for mom, is teaming up with Walmart in their national campaign to help Moms across the country save money.
Walmart has invited 11 carefully selected Mommy Bloggers including Classy Mommy founder Colleen Padilla, to serve as experts and submit money saving tips to YouTube as part of their Money Saving Moms campaign. The company's social networking initiative can be found online at http://www.walmart.com/moneysavingmoms beginning September 3.
As part of the campaign, moms from across the country will have a chance to participate by submitting their own money saving tips via video. The ten women with the best tips will win free groceries for the year.
Walmart has invited the team of Mommybloggers, coined the "11 Moms," to visit Walmart headquarters in October to tour their facilities and attend the company's famed Saturday Morning Executive Meeting. "I'm excited to converge my MBA and consumer marketing experience with my new role as a Mommy Blogger. In a tough economy, I'm also thrilled to contribute to the launch of a national campaign that will enable ten moms from across the country to win a year's supply of groceries" explains Colleen Padilla.
"I've been vlogging (video blogging) ever since I launched Classy Mommy two years ago so this campaign is a natural fit for me. I'm teamed up with a group of interesting and diverse women who all have their own unique websites offering everything from couponing strategies, technology expertise, domestic advice, frugal tips, product reviews, giveaways, and general mommy blogging tales," adds Padilla.
About ClassyMommy.com
Classy Mommy is your one stop to find baby gifts - from baby toys to nursery furniture to accessories for mom. The Classy Mommy product finder lets you quickly find exactly what you want. The site offers its 35,000 unique monthly visitors new and improved navigation features, robust search capabilities, fun and interactive video product reviews and mega monthly giveaways.
Each week Classy Mommy visitors have a chance to win great prizes from the coveted Classy Mommy prize vault just for signing up to receive the Classy Mommy e-newsletter.
All earnings from shopping through our partner sites go directly to charity. Visit http://www.classymommy.com for more information.
MEDIA CONTACT: Allison Neves, WordsInspire PR - 415-948-1200, allison@wordsinspirepr.com
NOTE TO EDITORS AND PRODUCERS: High-resolution images and interviews with ClassyMommy founder, Colleen Padilla available upon request.
###