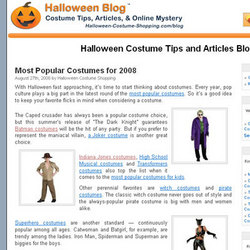 Austin, TX (PRWEB) August 28, 2008
The top Halloween costume in the weeks leading up to the spooky holiday is the muscular, crime-fighting Batman Dark Knight costume. The Halloween Costume Shopping Blog compiled page traffic and visitor statistics from Halloween-Costume-Shopping.com to determine this year's favorites. Rounding out the list of the most sought after costumes are Transformers' "Optimus Prime," High School Musical's "Gabriella," Indiana Jones and Hannah Montana.
"Halloween has evolved from one night of begging for treats into a true holiday season, creating a bigger demand for trendy costumes earlier in the year," said Sally Grace, a Halloween Blog writer. "People have begun shopping for holiday costumes sooner in the year and celebrating longer. The challenge for consumers is to get the most popular costumes for their children before they sell out."
TV and movies like "The Dark Knight," "Iron Man," "Transformers" and "Indiana Jones and the Kingdom of the Crystal Skull" have driven demand for costumes for kids, but the most popular costumes for babies are the irresistibly sweet and cuddly characters from well-known children's shows like "Curious George." The baby costumes most in demand are the Tom Arma costumes. These adorable costumes inspired by the famous photographer's, "Please Save The Animals" series, sell out quickly while sending an ecologically friendly message.
Approximately one-third of all adults dress up in a costume for Halloween each year. Not surprisingly, the trend for adult costumes runs more risqué. Men and women consider the anonymity afforded by donning a Halloween costume a great opportunity to explore their sexy side. In fact, sexy costumes topped the list of most purchased adult Halloween gear for the third year in the row. Sultry costumes peaking in demand this year include perennial favorites like the French maid and classic Playboy bunny. Popular traditional costumes with an adult twist include the sexy pirate, the naughty nurse, the vampire vixen and the wicked witch -- all high on the list.
For the more conservative adults, this year's most desirable costumes conjure images of Halloween nights gone by. Traditional costumes such as witches and werewolves are popular again this year. Other well-liked costumes are inspired by the hotly contested presidential election. Start your own engaging debate by wearing a Barack Obama, John McCain or Hillary Clinton mask. The variety of costumes available for grown ups makes Halloween just as much fun for adults as it is for kids.
Each year, the Halloween Costume Shopping Blog provides Halloween costume ideas and helpful tips for celebrating the holiday. The site is an indispensable Halloween resource for costume ideas for men, costume ideas for women, costume ideas for kids and costume ideas for babies. The Halloween Blog also offers Halloween decorating ideas, pumpkin carving concepts, Halloween games, Halloween party planning tips for kids' and adults' parties, Halloween treats and Halloween costume coupon codes.
Media Contact:
Matt McGinnis
Halloween-Costume-Shopping.com
+1-512-342-8378
Editor @ halloween-costume-shopping.com
###