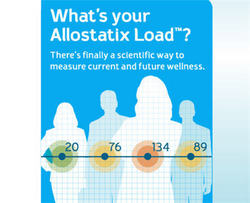 Much of our work in creating our assessment for use in corporate wellness programs is in debt to Dr. McEwen's research
Cincinnati, OH (PRWEB) August 28, 2008
Allostatix LLC announced a new scientific advisory board to provide scientific advice as well as technical oversight to the health and wellness informatics company.
Allostatix recently announced the Allostatix Load Test, the first-of-its-kind wellness assessment that measures the cumulative effects of stress on the body. The Allostatix Scientific Advisory Board is comprised of the leading experts in both the theory and evidentiary measurements of allostatic load and its relationship to health and wellness.
Board chairman is Bruce S. McEwen, PhD, a neuroscientist and neuroendocrinologist, and an originator of the concept of allostatic load. Dr. McEwen is the Alfred E. Mirsky Professor and Head of the Harold and Margaret Milliken Hatch Laboratory of Neuroendocrinology at The Rockefeller University. He is a member of the National Academy of Sciences, American Academy of Arts and Sciences and the Institute of Medicine. As a member of the MacArthur Foundation Research on Socioeconomic Status and Health, Dr. McEwen is helping to reformulate concepts and measurements related to stress and stress hormones in the context of human societies.
"Much of our work in creating our assessment for use in corporate wellness programs is in debt to Dr. McEwen's research," said Gordon Horwitz, founder and president. "We rely on his expertise in leading our board as we pursue visibility in the corporate sector, as well as among the many research associations on diseases with clear ties to accumulated stress."
Teresa Seeman, PhD, is Professor of Medicine & Epidemiology, Division of Geriatrics at UCLA, and an expert in the role of social and psychological factors in health and aging. Dr. Seeman has been instrumental in developing measures of allostatic load and empirical tests on its relationship to health outcomes.
Dr. Eugene Somoza is a psychiatrist with a PhD in physics and a strong interest in the development of mathematical models in medicine and psychiatry. He is currently Professor of Psychiatry at the University Of Cincinnati College Of Medicine, and has published extensively on optimizing diagnostic tests in medicine and psychiatry. Arun S. Karalamangla, PhD and MD, is Assistant Professor in Geriatrics at UCLA's David Geffen School of Medicine. Dr. Karalamangla has done innovative work in the role of psychosocial stressors and stress hormones in the development of physical and cognitive impairments.
Judith Balk, MD, holds a Masters in Public Policy and Masters of Public Health. Her goal is to integrate complementary approaches such as nutrition, exercise and stress reduction into Western medicine. She teaches at the University Of Pittsburgh School Of Medicine.
More background on the Scientific Advisory Board is at http://www.allostatix.com/scientific_advisory_board.htm
About Allostatix, LLC.
Allostatix LLC is the creator of the Allostatix Load Test™, a scientific tool that measures the cumulative impact of daily life stresses on an individual's whole body health. The company's predictive measurement is conducted through a blood and biometric analysis and is based on 25 years of longitudinal medical research. More information is available at http://www.allostatix.com or via e-mail at getanswers@allostatix.com.
Contact:
Gordon Horwitz
Allostatix, LLC
513-351-0368
Gail DeLano
Fisher Vista for Allostatix
gdelano (at) fishervista.com
831-685-9700
This press release was distributed through eMediawire by Human Resources Marketer (HR Marketer: http://www.HRmarketer.com) on behalf of the company listed above.
# # #