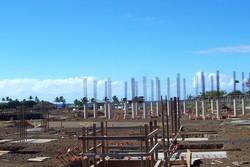 It's become a reality thanks to a combination of a strong developer and great real estate.
Kauai, HI (PRWEB) August 28, 2008
Koloa Landing at Poipu Beach is pleased to announce they received their phase one building permit from the county June 19, 2008 and vertical construction started July 8, 2008 on the Phase One residential buildings (encompassing buildings 6, 2, 3, 1 and 9). S&P Destination Properties, a world leader in the resort and luxury real estate business, commenced sales of these two, three and four-bedroom luxury condominium homes last October drawing buyers from Hawaii, California, Utah and other states as well as western Canada. Sales have steadily continued since then, and the first residences are scheduled for occupancy in the fourth quarter of 2009.
"We're very excited after months of site preparation to be going vertical with buildings. We are committed to delivering a world-class development from the inside out. We have in place an experienced construction team that understands our expectation for quality and has the ability to deliver it," said Todd Hadley, Owners Representative for Poipu Beach Villas, LLC, developer of Koloa Landing, "And we look forward to becoming Kauai's most prestigious coastline address."
"With the buildings taking shape, buyers can feel confident that Koloa Landing is more than a vision," Sid Landolt, President of S&P Destination Properties declared, "It's become a reality thanks to a combination of a strong developer and great real estate."
Koloa Landing is a 25 acre luxury residential resort development located on the southern tip of Kauai at Poipu Beach. It is the first major oceanside real estate development in Poipu since 1990, and features the most extensive pool and outdoor amenities on the island of Kauai.
The large central air-conditioned condominiums with residential-style floorplans are fully furnished, with semi-private elevator access and oversized lanais. Resort-style amenities were designed in keeping with Kauai's lush landscape connecting Koloa Landing to the ocean with a series of pools, water features and direct walking access to Poipu Beach. A professional management company will maintain the property and offer an optional full-service rental management program.
Koloa Landing at Poipu Beach is being developed by Poipu Beach Villas LLC. Hawaii's Group 70 and Resort Construction Managers are the architect and general contractor respectively. S&P Destination Properties, a real estate company specializing in the design, marketing and sale of resort and luxury real estate around the world, is the exclusive listing agent.
A limited number of Phase 1 two and three-bedroom condominium homes are still available. Prices range from the low $900s to over $2 million. For more information, visit http://www.KoloaLanding.com or call 1-866-921-4242.
###