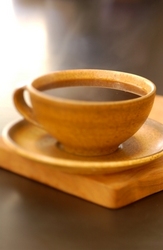 Similarly, food service providers have their fingers on the pulse of customers' needs and know that organic food and beverages are here to stay.
Greenfield, MA (PRWEB) August 28, 2008
Thanks to the efforts of savvy food service providers and students who support organic farming, this fall's scholars nationwide will find colleges and universities are increasingly offering organic coffee products to keep them perking along, according to the Organic Coffee Collaboration, a project of the Organic Trade Association (OTA).
For example, Columbia University and New York University in New York City brew organic Dallis Coffee (New York City, NY). Equal Exchange (West Bridgewater, MA) revs up Bennington College (Bennington, VT), Brown University (Providence, RI), Indianapolis University (Indianapolis, IN), and Yale University (New Haven, CT).
In addition, Harvard University (Cambridge, MA) students munch on Fresh Harvest Product's Wings of Nature® (New York City, NY) organic coffee snack bars, and Green Mountain Coffee Roasters (Waterbury, VT) stokes Notre Dame University (Notre Dame, IN), Harvard Medical School (Boston, MA), University of Connecticut (Storrs, CT), University of Massachusetts (Boston, MA), and the University of Vermont (Burlington, VT).* Much of this coffee is imported by Elan Organic Coffees (San Diego, CA).
Not all the organic coffee sold on campus is caffeinated. Numerous schools also offer decaffeinated organic coffee, as well. Much of that coffee has been decaffeinated using Swiss Water Decaffeinated Coffee Company's (Vancouver, Canada) process, as it uses only water to extract caffeine from the coffee beans.
"Many college students have grown up with organic foods. As they look for solutions to the economic and environmental problems facing the world, students are among the key drivers changing campus food toward organic products and more sustainable choices," said David Gagnon, OTA interim executive director. "Similarly, food service providers have their fingers on the pulse of customers' needs and know that organic food and beverages are here to stay."
The North American organic coffee market reached one billion dollars in 2007, according to Mr. Daniele Giovannucci, author of the recent North American Organic Coffee Industry Survey. The amount of organic coffee imported into the U.S. and Canada increased 29 percent from 2006-2007 from approximately 65 million pounds to approximately 81 million pounds.
Organic coffee is grown using methods and materials that have a low impact on the environment. Organic production systems replenish and maintain soil fertility, avoid the use of toxic and persistent pesticides and fertilizers, and build biologically diverse agriculture. Third-party certification organizations verify that organic farmers use only methods and materials allowed in organic production.
Organic Trade Association (OTA):
The mission of the Organic Trade Association is to promote and protect the growth of organic trade to benefit the environment, farmers, the public and the economy. OTA envisions organic products becoming a significant part of everyday life, enhancing people's lives and the environment. As a membership-based business association, OTA focuses on the organic business community in North America. OTA's 1,700 members include farmers, processors, importers, exporters, distributors, retailers, certifiers and more (http://www.ota.com).
# # #