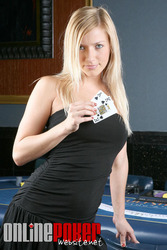 We expect this site to catch on quickly
Fort Lauderdale, FL (PRWEB) August 28, 2008
The Online Poker Website, owned and operated by 925 Media Group, has announced the launch of their new web style magazine that promises to be an important player in the poker community.
The site will feature newly discovered amateur female poker players in photo-shoots taken at popular casinos around the United States. Those female poker players will collectively be known as the 'Ladies of Poker' and that section of the site will be updated several times throughout each week.
"It is our intention to prove to the world that poker is played by more than just the average college age, or middle age male, but that it is also game played by intelligent, beautiful, and sophisticated ladies of all ages," said Aaron Hampton, Online Poker Website's spokesman.
Hampton explains that the site will be shattering the stereotypes of poker as a male only sport.
"We will be sending our photographers across the United States. They will be sitting in at big casino poker tournaments, at local casino tables, and at the local bar leagues... taking photos of all the lovely ladies playing poker across the country." He says the intention is to prove how significant the female population is to the game of poker.
"Of course, we will take the site even further by writing breaking gaming news, both about online poker issues, as well as casino related issues," Hampton said. "Our writers are experienced. They have worked at the best gaming newspapers and websites on the Internet and they know the issues that both online and casino based gaming companies must deal with."
Online Poker Website will also be pushing their player forums. "We want to make available a spot on the Internet where players can talk about real issues. Poker laws, the latest news, etcetera. We also know players need a place to vent, so we created bad beat forums and other areas that will lead poker players to feel at home."
Players can also leave reviews about their favorite local casinos, as well as read reviews of some of the most popular online poker sites.
"We expect this site to catch on quickly," Hampton said, "and we will be working hard to make it one of the best poker sites in the world."
About 925 Media Group:
925 Media Group, LLC is based out of Florida and runs many well established web style magazines. Each site owned and operated by the company focuses on providing unique information to its visitors via both photography and journalism. The company employs staff for each of its sites that has great experience and knowledge in the specific topics of focus.
About Online Poker Website:
OnlinePokerWebsite.net is a new online poker web style magazine that focuses its attention on providing its visitors with highly unique material. The site features: several writers who focus on reporting breaking gaming news; an acclaimed photographer and several free-lance photographers who focus on taking unique poker photographs at area casinos; two senior editors; and several press mediators. Other features of the site include online poker reviews, casino player reviews, player forums, and other poker tools.
###