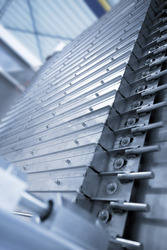 Renewable energy sources have a vital role to play in the future economic and environmental health of our planet
Eindhoven, the Netherlands (PRWEB) August 29, 2008
Smit Ovens today announced that it has passed the 2 gigawatt peak (GWp) milestone equivalent for sales of its customized ovens in the solar energy industry. The 2 GWp figure represents the output capacity of cells that can be manufactured in one year with Smit Oven's delivered systems. Reaching this milestone reflects the company's strong sales in the solar sector, and the successful completion of 32 installations for leading manufacturers of thin-film photovoltaics around the world.
"Renewable energy sources have a vital role to play in the future economic and environmental health of our planet," says Wiro Zijlmans, President of Smit Ovens. "We believe solar energy will make a key contribution, thus we are delighted to support manufacturers moving into mass production of thin-film solar devices and solar heat exchangers. Being present at PVSEC gives us an opportunity to strengthen existing relationships and introduce our offering to new customers. Through close partnerships with existing customers and research specialists, we have built up extensive expertise in processes and materials. This know-how gives both us -- and our customers -- a valuable commercial advantage in this increasingly competitive market."
Smit Ovens has decades of experience in providing tailor-made thermal processes for the glass, electronics and display industries. In recent years it has applied this expertise to the fast-growing solar sector. In June 2008, it moved into new headquarters in Eindhoven, the Netherlands, to support its expanding customer base. Besides office and R&D facilities, the 4000m2 premises provide extensive space for manufacturing and testing of its advanced, industrial-purpose ovens.
Visitors to the 23rd European Photovoltaic Solar Energy Conference and Exhibition (PVSEC) in Valencia, Spain, 1-5 September 2008, can find Smit Ovens in hall 2, stand D35.
About Smit Ovens
Founded in Nijmegen, the Netherlands in 1936, Smit Ovens is a leading supplier of customized thermal equipment and processes for the glass, electronics, displays and photovoltaics industries. It employs around 50 people and currently has around 3000 installations operating, including some 40 in the solar industry.
For further information contact:
Michael M. van der Gugten
m.v.d.gugten@smitovens.nl
+31.499.494534
# # #