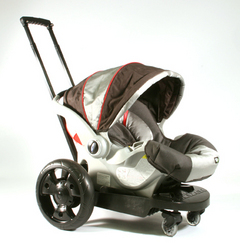 San Jose, CA (PRWEB) August 30, 2008
Go-Go Babyz has developed another way to make your life easier when you are on the go with your kids. The new Infant Cruizer AT eliminates the need to struggle as you carry your infant car seat. Simply attach your infant car seat to the Infant Cruizer AT and off you go. Your everyday errands and family travels that were once a struggle are now a breeze thanks to the Infant Cruizer AT.
The Infant Cruizer AT wins the 2008 Top Choice Award by Creative Child Magazine for the baby and toddler travel category. Every year, Creative Child Magazine organizes a review of baby and toddler products. The products are divided into various categories and evaluated and tested by hundreds of moms and child educators. One deserving product from each category is awarded the prestigious Top Choice Award.
Come by and see us at booth 613 at the ABC Kids Expo in Las Vegas at the Convention Center September 7th - 11th, 2008!
About Go-Go Babyz® Corporation:
Go-Go Babyz® is a family oriented company that develops unique solutions for strollers and car seats that make life easier and children safer during travel. Founded in 2003, the father and daughter design team focus on safety and convenience for child transportation products. Our products were developed because, we found ourselves struggling with the products we were using, and we wanted added convenience. Furthermore, in the case of strollers, we found the need for additional safety. In addition to being members of JPMA, we are certified by the JPMA Stroller Certification Program, and all Go-Go Babyz® products are personally mom, dad and grandparent-tested.
For additional Go-Go Babyz® products and information visit our website at http://www.gogobabyz.com.
CONTACT:
Kevin Williams
kevin@gogobabyz.com
1.888.686.2552
###