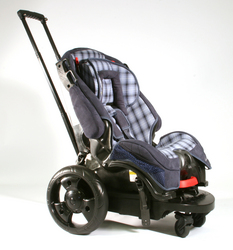 San Jose, CA (PRWEB) August 30, 2008
Raising a child today is a serious investment. The little things add up. The average cost of raising a child from 0-5 in America today, according to a survey done by the US department of Labor, is $13,120. Now, a company is trying to make it a little more cost efficient to be a parent. With the launch of the Toddler Adapter, the Infant Cruizer AT will now last your child from infancy through toddlerhood. Today's families travel more than ever before and with rising fuel costs every little bit of savings help. Most infant products are targeted to the first year only. Thanks to Go-Go Babyz, the Toddler Adapter has eliminated the need for multiple travel systems just to keep your child in tow as they grow.
Go-Go Babyz, the makers of the award winning gogo Kidz® Travelmate, has developed the Infant Cruizer AT to provide a convenient and comfortable way to transport your baby without taking him or her out of the infant cart seat. The Infant Cruizer is much lighter and compact than a traditional stroller/car seat travel system. The convenience of the Infant Cruizer, with its true one hand system, is extended by the simplicity of the Toddler Adapter.
When your child is ready for their convertible car seat, so is the Infant Cruizer with the new Toddler Adapter. Utilizing two quick release ratcheting straps, installing your convertible seat is nearly as easy as the infant seat. Ideal not only for travel but also everyday use, the Infant Cruizer AT is so maneuverable and convenient you can take it anywhere - restaurants, the drug store, doctor's office, taxis, trains and more. This means no longer having to carry your toddler around for all those little trips. In most urban centers, the Infant Cruizer will eliminate the need for an expensive stroller altogether.
Come by and see us at booth 613 at the ABC Kids Expo in Las Vegas at the Convention Center September 7th - 11th, 2008!
About Go-Go Babyz® Corporation:
Go-Go Babyz® is a family oriented company that develops unique solutions for strollers and car seats that make life easier and children safer during travel. Founded in 2003, the father and daughter design team focus on safety and convenience for child transportation products. Our products were developed because, we found ourselves struggling with the products we were using, and we wanted added convenience. Furthermore, in the case of strollers, we found the need for additional safety. In addition to being members of JPMA, we are certified by the JPMA Stroller Certification Program, and all Go-Go Babyz® products are personally mom, dad and grandparent-tested.
For additional Go-Go Babyz® products and information visit our website at http://www.gogobabyz.com.
CONTACT:
Kevin Williams
kevin@gogobabyz.com
1.888.686.2552
###