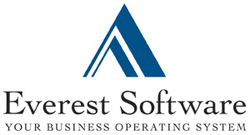 Best New Computer Software Product
Dulles, VA (Vocus) August 28, 2008 - Everest® Software, the award-winning provider of a fully-
integrated business management software system for small and medium-sized businesses (SMBs), today announced the availability of their Knowledge as a Service option for companies eager to streamline their Web and multi-channel operations. KaaSsm lowers the barriers of entry to learning and managing new software with a complete package of services and technology that provides total business process operations available at a subscription rate. KaaS now allows small companies to focus just on what they know best - their business.
KaaS delivers access to all of the advantages of the Everest system, including the software, hardware, hosting (as needed), integration, customization, and related IT management services as a complete package. Other specialty services can also be provided via this one resource, such as website design, content management, Web analytics, SEO and SEM, synchronized selling via comparison engines and shopping portals, and integration with Everest partners for specialized services such as EDI. Everest KaaS does it all.
Having been involved in SMB software development for fourteen years, Everest intimately understands the needs and issues of the market. Everest®Advanced has been offering the most flexible solution available, in a centralized platform that integrates all critical business operations with real time information, as well as allowing for a great deal of customization. As with most software, the time to implement the complete solution, train key staff and then do customizations differs from company to company.
Everest Software also knows that companies who are expert at their own businesses have difficulty keeping pace with technology and the network implications of integrating different product updates. It can be cost-prohibitive for them to acquire all the resources needed to efficiently manage a Web business, where the complexities change on an almost daily basis. For companies that don't have extensive resources and want an accelerated path to improved business productivity, Everest now offers KaaS.
According to Everest CEO Edwin Miller, "We know for a fact there's a pent-up demand out there for KaaS in small business. Especially in this economy many companies are not ready to make a big upfront investment in software and systems; they need a more affordable way to be competitive. We're leap-frogging the limitations of SaaS (software as a service) that doesn't allow ownership of a company's own information, offers them no control and no customization. KaaS is here and it's ready to go. It allows companies to pay for growth on an ongoing basis, spreading out the investment while alleviating a lot of the daily technology headaches."
Everest's KaaS provides a faster way to transform all a company's business operations with the Everest shared environment. It's a way to launch, improve or combine web stores and multi-channel businesses with the expertise it could take an individual company months or years to acquire. Everest knows our own software better than any customer ever can. This is all delivered for a single monthly subscription fee that maximizes productivity and helps a company to grow without having to research and acquire yet more technology.
About Everest
Everest® Software enables companies to manage every function of their business more effectively. This all-in-one, fully-integrated business management software application addresses the challenges of growing small to medium-sized businesses (SMBs), primarily in retail and wholesale. Customers can dramatically increase their efficiency and profitability with a solution that provides a remarkably rapid return on investment. Everest Software was a finalist for a 2006 American Business Award in the category "Best New Computer Software Product" and is the proud winner of numerous awards including the SIIA Codie Award for "Best Business Software Product." For more information, please visit http://www.everestsoftwareinc.com, e-mail us at info@everestsoftwareinc.com or call us at 1.800.382.0725.
For More Information Contact:
Vighneshwar Hegde
Everest Software, Inc.
(703) 234-6676
###