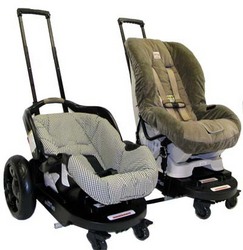 San Jose, CA (PRWEB) August 30, 2008
The award winning Infant Cruizer AT (all terrain) by Go-Go Babyz now has a Twins Adaptor! According to research conducted by the Ohio State University Medical Center, the current birth rate for twins in the United States is 32.2 twins for every 1000 births. The Infant Cruizer AT, with the newly released Toddler Adaptor, is even smarter and more versatile now by adding the Twin's Adaptor. The Infant Cruizer AT can be used with your infant through toddlerhood, and if you have twins, this innovative affordable travel system is a wise consumer choice.
The Infant Cruizer AT was developed to provide a convenient and comfortable way to transport your infant and toddler without taking him or her out of their car seat. The Infant Cruizer AT is much lighter and compact than a traditional stroller/car seat travel system, and with the convenient one hand operating system, it is truly a dream. The Twins Adaptor is appealing because you can detach the Infant Cruizers at any time, store the adaptor on either one of the Infant Cruizers, and use them solo when needed!
The Twins Adaptor is very easy to attach. Simply connect two Infant Cruizers together with only three parts and voila; you have a stroller for twins. The Twins Adaptor Infant Cruizer system is easy to maneuver and compact enough to travel with and use everyday!
Come by and see us at booth 613 at the ABC Kids Expo in Las Vegas at the Convention Center September 7th - 11th, 2008!
About Go-Go Babyz® Corporation:
Go-Go Babyz® is a family oriented company that develops unique solutions for strollers and car seats that make life easier and children safer during travel. Founded in 2003, the father and daughter design team focus on safety and convenience for child transportation products. Our products were developed because, we found ourselves struggling with the products we were using, and we wanted added convenience. Furthermore, in the case of strollers, we found the need for additional safety. In addition to being members of JPMA, we are certified by the JPMA Stroller Certification Program, and all Go-Go Babyz® products are personally mom, dad and grandparent-tested.
For additional Go-Go Babyz® products and information visit our website at http://www.gogobabyz.com.
CONTACT:
Kevin Williams
kevin@gogobabyz.com
1.888.686.2552
###