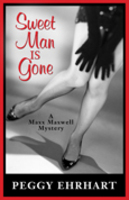 Both worlds involve extremes--the vulgar and the spiritual side by side, and so intense. The uneasy balance between them is exciting.
Leonia, NJ (PRWEB) August 31, 2008
The Blues and the Middle Ages don't seem to have much in common. But Peggy Ehrhart says they do. "Both worlds involve extremes--the vulgar and the spiritual side by side, and so intense. The uneasy balance between them is exciting."
Ehrhart should know. She has a Ph.D. in Medieval Literature and for 30 years she taught English in college. Then, in midlife, she bought an electric guitar and formed a band.
Now she's written a mystery that draws on her experiences as a guitar player and band-leader: SWEET MAN IS GONE, with its spunky blues-singer sleuth Maxx Maxwell.
Maxx is smart, talented, and gorgeous--at least since she had her nose fixed, went blonde, and bought a push-up bra--and Ehrhart says she had fun reimagining herself as a sexy thirty-five-year-old. So what if Maxx's apartment in Hackensack, New Jersey, is scruffy and her day job at Aldo's Seafood Chalet is driving her crazy? Her band Maxximum Blues is really taking off, thanks to the talents of guitarist Jimmy Nashville, a heartbreakingly handsome guy with more girlfriends than he can handle.
But then Jimmy plunges to his death from the window of his ninth-floor apartment. His death intensifies tensions already simmering in the band, and Maxx fears her dream of making it as a singer might just as well be dead. Besides, she has to admit that she was crazy about Jimmy too.
When Jimmy's death is ruled suicide, Maxx resolves to go sleuthing on her own.
Cozy but cool, SWEET MAN IS GONE features a quirky cast of characters that include a skeptical cop and an assortment of eccentric musicians. Maxx's quest, played out against a backdrop of blues and Manhattan bar bands, uncovers a surprising number of people who had reason to kill Jimmy, and it takes her deep into Jimmy's mysterious past.
Visit Peggy Ehrhart on the web at http://PeggyEhrhart.com .
For additional information on the news that is the subject of this release, contact Peggy Ehrhart or visit http://www.PeggyEhrhart.com .
SWEET MAN IS GONE
Five Star/Gale/Cengage
ISBN 978-1-59414-668-8
Price: $25.95
245 pages
About Peggy Ehrhart:
Peggy Ehrhart is a former college English professor who lives in Leonia, New Jersey, where she plays blues guitar and writes mysteries. She has won awards for her short fiction, and her stories have appeared in Futures Mystery Anthology Magazine and numerous ezines. As Margaret J. Ehrhart, she has also published widely in the field of her academic specialty, medieval literature. She is a longtime member of Mystery Writers of America and Sisters in Crime. As a guitar player, she has performed with The Last Stand Band and other bands in the New York/TriState area.
Contact:
Peggy Ehrhart
201-461-8278
pehrhart @ sprynet.com
###