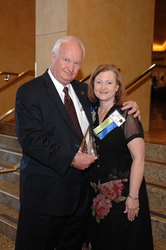 Conroe, TX (Vocus) August 30, 2008
At this year's event, the following six Montgomery County companies were announced Winners of Distinction: Adams Transfer & Storage, Aladin Moving, Inc., American Finasco, Inc., Gullo Ford-Mercury of Conroe, Quality Water Systems, Inc., and Texas Center for Cosmetic & Implant Dentistry.
This is the second year in a row American Finasco, Inc. has been a winner in these awards with the achievement of the Pinnnacle Award in 2007.
The Better Business Bureau is a non-profit organization funded by dues from accredited member companies. BBB accredited businesses must adhere to strict guidelines and settle disputes in a fair and efficient manner. The BBB issues reports about companies to the public on both accredited and non-accredited businesses in English and Spanish, and works closely with the media to alert the public about the latest scams affecting the marketplace. In addition, Bureau staff cooperates extensively with local, state and federal law enforcement to eradicate fraud.
# # #