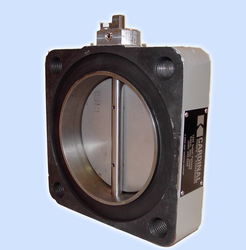 The Hottest Name in Cooling
London, ON (PRWEB) September 19, 2008
Unifin, a world-leading supplier of Cooling Equipment and Transformer oil pumps and Valves to the Power Generation and Power Transformer industries, offers its line of heavy-duty Transformer oil Valves, manufactured under the company's Cardinal brand. Cardinal Valves are the industry's only Valves that are specifically designed to meet the demanding requirements of Transformer oil applications.
To perform reliably under extreme operating conditions, Cardinal Valves are rated for temperatures ranging from -40ºC (-40ºF) to 100ºC (212ºF). All Cooling Equipment parts are made from non-corrosive or a suitably protected material to withstand outdoor exposure on external surfaces and hot Transformer oil on internal surfaces.
Cardinal Valves are robust in design, so that over-tightening or minor abuse encountered in handling or during factory/field installation will not result in Valve malfunction.

All Valve fasteners are designed to prevent loosening under normal operating conditions for the best in Cooling Equipment maintenance.
The operating handle displays the Valve's open and shut position and can be manually locked in either position. In the open position the Valve flapper will not vibrate or flutter when the Valve is installed close to the suction side of the pump. The flapper acts as a fluid straightener thus enhancing the pump's performance.
Valves are individually coated with oil and sealed to protect the Cooling Equipment from contaminants.
Cardinal Valves are designed for use on new Transformers or as replacements on existing electrical Transformers. Cardinal Valves are available in sizes ranging from 2" to 8" including ANSI standard and OEM-specific flange configurations.
For more information about Unifin's superior performance Cardinal Valves for the most efficient Cooling Equipment for all overheating Transformer applications in the Power Generation and Power Transformer industries, and to see additional Unifin Cooling Equipment, please visit http://www.unifin.com/prodC5.asp?m=cascadeList,C.
About Unifin
Unifin International, "The Hottest Name in Cooling," has been an innovative designer and manufacturer of heat transfer products for many years. Now a world-leading supplier of Transformer Oil Coolers and Pumps to the Power Generation and Power Transformer industries, the company has also emerged as a premier supplier of Large Power Generator, TEWAC Motor and Power Transformer Cooling Equipment. Headquartered in London, Ontario, Unifin is a part of Koch Industries Group, one of the largest privately held companies in the world. For more information on Unifin International and its complete line of heat transfer products, visit http://www.unifin.com or call 1-888-451-0310.
# # #