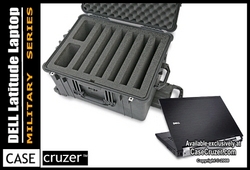 Montclair, CA (PRWEB) September 2, 2008
In a national emergency, a 6-Pack Dell Latitude laptop case by CaseCruzer can make the difference in securing emergency communications. As dozens of federal agencies scurry to interface with other government organizations, it is not unusual to rely on a fleet of more than 30,000 semi-rugged Dell Latitude laptops to establish communication networks. In a hazardous environment where failure is not an option, a CaseCruzer laptop case is always the best defense.
Reinforce homeland security with the durable CaseCruzer 6-Pack Dell Latitude laptop case. Its superior mobility means it can lock 'n' roll under any circumstance with any federal agency, including FEMA, the Department of Defense and U.S. Secret Service - the protectors of our borders, airports, and leadership.
The Dell Latitude Pelican case is also a major player in overseas defense strategies. In particular, the U.S. Army's Medical Communication for Combat Casualty Care (MC4) must sustain a health information system in dusty, smoke-infested terrains. With an estimated 14,000 semi-rugged laptops playing a significant role in combat operations in Iraq and Afghanistan, anything less than a topflight, heavy-duty protective carrying case is a national security threat.
The Dell Latitude laptop case can accommodate six Dell 14.1" and 15" display laptops. It also includes compartments for accessories. Please note: this protective carrying case is only available as a 5-Pack for the following Dell Latitude models: 100L, 120L, C800, C810, C840 or D840.
Since portability and speed are mandatory, the Dell laptop case is equipped with comfortable rubber over-molded top and side handles, an extendable handle, exterior mounted urethane wheels, and easy-to-open latches make it a snap to access laptops.
The custom-fit interior simplifies two critical phases of emergency response. Deployment: cases with custom fit interiors speed mobilization because personnel can quickly take inventory of required equipment. Demobilization: easy to account for return of all issued equipment, which can quickly be repackaged for shipment to the next mission. Missing gear is identified in seconds, due to the signature shape of empty interior cutouts.
Warning: theft of classified laptops - from offices, airports, automobiles and hotel rooms - has increased as federal agencies, such as the Department of Homeland Security (DHS), rely more heavily on portable hardware. The Dell laptop case has an answer: reinforced stainless steel padlock protectors.
The open cell core with solid wall design makes the Dell Latitude laptop case rugged but light, ideal for emergency management. The sturdy outer dimensions are 24.81" L x 19.38" W x 13.88" H. When empty, the case weighs 26 lbs.
The Dell Latitude case responds to natural and man-made disasters armed with the renowned Pelican case characteristics. It is suitable for land, sea or air missions: military approved spec-4150J and STANAG 4280; airline safe ATA 300; IP67 certifications; watertight; and has an unconditional lifetime warranty.
Reliability is Pelican's badge of honor. But protectors of our national interests salute CaseCruzer for its hardcore defense against impossible odds.
CaseCruzer provides shipping & carrying case solutions for applications such as Communications, Photography, Computers, Electronics, Weapons, Medical and Transportation. For more info about the new Pelican case, visit http://www.casecruzer.com; call 800-882-4730 in the U.S. or 909-613-1999 internationally; fax 909-465-5598; or write to CaseCruzer at 4665 State Street, Montclair, CA 91763.
###