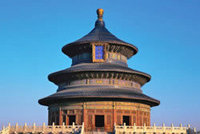 Alhambra, CA (PRWEB) September 12, 2008
More and more people are making traveling a part of their lifestyle. From the hustles and bustles of daily life, traveling has become a way to de-stress and to rejuvenate. Traveling also enables people to broaden their perspective and learn more about different people and their cultures.
However, as one would like to travel as much, the most daunting task at hand is planning the entire trip, from the logistics down to the itinerary. Oftentimes, a travel, especially to the Far East, does not meet up to one's idea of a dream vacation.
To be certified of having the best vacation, one must leave everything to the experts. Ritz Tours, provider of high quality and unforgettable China travel tours as well as to the rest of Asia, turns travel dreams into reality. With nearly three decades of experience as well as dedicated and personalized service, Ritz Tours can give a traveler the best quality Asia and China travel tours at the most affordable prices.
Plan those travels ahead as Ritz Tours has just unveiled its 2009 China Travel and Asia Vacation packages. One may choose from numerous China travel packages as well as Asia vacation series.
For the year 2009, Ritz Tours has come up with 20 exciting China travel and Asia tour packages. Whether a traveler is seeking a historical journey in a specific region or pan-Asian International travel deals, Ritz Tours has the right China travel and Asia vacation package.
Leaving China travel and Asia tours to the hands of experts like Ritz Tours enables a traveler to experience the best of what China and Asia have to offer. All travelers get round-the-clock service to ensure utmost satisfaction. Moreover, all of Ritz Tours China travel packages as well as to the rest of Asia are accompanied with 5-star accommodations for utmost comfort and convenience and professional tour guides who give all travelers the opportunity to experience China and Asia's local life and culture.
Now, sailing thru the majestic Yangtze River, walking down the historical Silk Road, marveling at the sights of Beijing, exploring the mixture of antiquity and modern development of Shanghai; experiencing the religious culture of Tibet and entering a world of diverse cultures and glories are not a far cry with Ritz Tours China travel tours.
One may also enjoy the spiritual enlightenment and mystical experience of Thailand; walk through the land of the rising sun, Japan; be awed by the magnificent Taj Mahal in India; witness diverse Singapore and modern Hong Kong; see the ornate architecture of the mammoth temples of Cambodia; and relish the tapestry of the old-fashioned villages, sophisticated cities and delicious cuisine of Vietnam with Ritz Tours' Asia travel deals.
Start those China travel plans and Asia vacation plans now! Apart from Ritz Tours affordable China travel packages and Asia deals, travelers who book their 2009 Asia and China travel tours from now until December 15, 2008 may get an additional discount of up to $200 off per traveler! Book now and experience a journey of a lifetime.
About Ritz Tours
Ritz Tours is an industry leader in providing the most memorable China travel tours and other Asia tours at the best prices. A member of highly respected and recognized travel associations, Ritz Tours is a proud member of the U.S Tour Operators Association (USTOA), Pacific Asia Travel Association (PATA), American Society of Travel Agents (ASTA) as well as the International Airlines Travel Agents Network (IATAN).
###