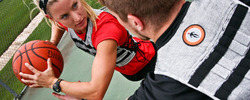 You can literally wear your workout all day long
Austin, TX (PRWEB) September 15, 2008
"The Hyper Vest isn't just another weight vest for jocks," says Cosmo Raines, inventor of Hyper Wear's flagship product. "It's also designed for fitness enthusiasts and individuals in physical therapy. We believe this vest answers most, if not all, of the shortcomings of traditional weight vests."
According to Raines, traditional weighted exercise vests are problematic in many areas. They are bulky and hot. The weights migrate and shift during movement. They are touted as "One Size Fits All," despite the reality that a linebacker and a distance runner cannot comfortably wear the same garment.
The Hyper Vest solves each of these problems in turn.
Thin, stretchable, wicking fabric compresses the vest to the body, but also allows the material to breathe and pull moisture from the torso. The Hyper Vest is so thin, in fact, it can be worn under a shirt, unbeknownst to any onlooker.
"You can literally wear your workout all day long," says Raines.
The Hyper Vest comes in four sizes and is fully adjustable, making it comfortable for anyone and everyone to wear. Side-cinching strings provide as much or as little compression as the wearer desires. A cinching belt around the waist pulls snug for a custom fit. One-eighth pound weights are easy to add or remove so the user can wear only as much weight as desired.
Due to the patented control system incorporated by the Hyper Vest, the small weights are held snugly to the core. This prevents migration during activity and permits functional training.
Functional training is an athletes' and coaches' term for moving your body in practice the same way it will be used in an actual competition. Jim Liston, president of CATZ (Competitive Athletic Training Zone), utilizes functional training for professional athletes at his facility in Pasadena, CA. Liston states that the Hyper Vest is the only weighted vest which properly accommodates functional training for competitive athletes.
For everyone else, functional training means strengthening the muscles you use for everyday activities so you don't throw your back out taking groceries from the trunk or sprain your knee running after Junior at the park.
Raines insists, "You cannot effectively train sport- or life-specific muscle in the weight room."
The Hyper Vest is featured on Hyper Wear's new website: Hyper Wear, which launches Monday, September 15th.
The new website uses a format that is easy-to-use and visually appealing. Pictures of real people using the vest can be found on every page as well as testimonials about the benefits of the product.
Hyper Wear's new website also utilizes a social networking tool where people can become members of the Hyper Community. This allows them to post pictures and videos, share in discussions, and write blogs within the community.
The website highlights four main types of users: Athletes, Coaches, and Trainers; Military, Police, Firefighters, and Scuba enthusiasts; Personal Fitness and Weight Loss; Physical Therapy, Osteoporosis, and Autism.
"We are pleased to be a part of the solution for women with osteoporosis," Raines said. "My mother-in-law was diagnosed just over a year ago and we've put a vest on her to make every exercise she does a weight-bearing exercise. We're seeing positive results!"
Raines continues, "No one is fully satisfied with the traditional, bulky, awkward-feeling weight vests that are out there. We're excited to provide a revolutionary alternative. The Hyper Vest helps you achieve your goals faster because it works you out, whatever you do. It doesn't alter your lifestyle, it simply adds adjustable resistance to your everyday activities so you get more out of life.
"I truly believe that using the Hyper Vest can make anyone - anywhere - stronger, faster, better."
About Hyper Wear:
Hyper Wear, LLC ("Hyper WearTM"), was founded in 2006 by Cosmo Raines to bring innovative products to market in the areas of sports performance training, physical education and fitness, tactical training, and health and rehab. Its innovative products include the Hyper Vest™, Hyper Precool Vest™, and Sandbell™. Nationally recognized speed, strength, and agility coach and fitness expert, Jim Liston, M. Ed., CSCS, chairs the Hyper Wear Advisory Board, and is President and Co-Founder of CATZ (Competitive Athlete Training Zone). For more information on Hyper Wear, visit their website at http://www.hyperwear.com or call toll free 888-460-0628.
###