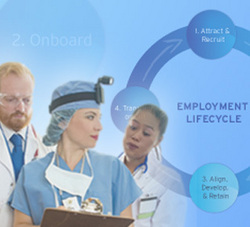 Maximizing Physician Relationships Through a Lifecycle Approach
Charlotte, NC (PRWEB) September 3, 2008
Morehead, the human capital research firm, will present its approach to maximizing physician relationships. Morehead will present their approach during a one-hour webinar titled "Maximizing Physician Relationships Through a Lifecycle Approach" on Thursday, Sept. 18, 2008 at 1 p.m. Eastern time.
Morehead's Trevor Byrd, director of research services, and Brad Morton, vice president of physician surveys and solutions, will present the webinar. Byrd and Morton will explain how to apply Morehead's lifecycle model to physicians. The model enables healthcare organizations to clearly define stages in the physician engagement lifecycle, including recruitment, onboarding, retention and exit. Measuring physicians' attitudes and perceptions across the lifecycle provides metrics that evaluate progress and focus an organization's talent management on crucial milestones. The lifecycle is flexible and can be applied to all physician types – employed, staff and referring. Byrd and Morton will also share best practices for achieving success in each stage of the physician engagement lifecycle.
To sign up for the free hour-long webinar, visit http://moreheadassociates.com/events/contents_event71.html.
About Morehead
Morehead delivers human capital Surveys, Metrics and Solutions that enable leaders to (1) target and focus human capital initiatives, (2) prioritize systemic change, (3) inform work unit interventions, and (4) align employees with business strategies. Morehead's clients include healthcare providers, financial institutions, government agencies, universities, service providers, and manufacturers. For more information, visit http://www.moreheadassociates.com.
Media Contact:
Wanda Craig
800.849.2292 x 5515
wcraig(at)moreheadassociates.com
This press release was distributed through eMediawire by Human Resources Marketer (HR Marketer: http://www.HRmarketer.com) on behalf of the company
listed above.
###