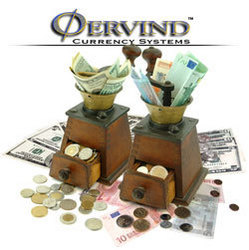 By simplifying the process of accepting other currencies, Oervind will make it easier for businesses to encourage foreign visitors to spend their cash
Charleston, SC (PRWEB) September 2, 2008
Although many economies are in a slump, people are still traveling according to the World Tourist Organization. During 2006, more than 840 million people visited another country. As surely as they travel, these foreign tourists will spend money. The spending choices travelers make, however, depend on how easy it is for them to buy from local merchants, restaurants and other businesses.
A new internet company hopes to remove some barriers and help small businesses capitalize on international tourism. Oervind (http://www.oervind.com) makes accepting foreign currency simple for businesses by calculating currency exchange values at the point-of-sale level.
As the first website to offer point-of-sale calculations, Oervind is unique among sites that deal with foreign currency conversions. Businesses can use Oervind to enter the price of a good or service and the amount of foreign currency offered. Oervind will provide all the information needed to complete the transaction on the spot.
Oervind's calculations are tied to the daily exchange rates posted by the European Central Bank and the Federal Reserve Bank of New York.
"By simplifying the process of accepting other currencies, Oervind will make it easier for businesses to encourage foreign visitors to spend their cash," said George P. Boniface, president/CEO of Oervind. "Oervind will allow retailers and other small businesses to target the cash all travelers carry for unexpected expenses."
Anyone can sign up and use Oervind free for seven days. After that trial period, the company will charge $20 for a one-year membership.
The company hopes that what sets Oervind apart -- its complete system for an individual transaction -- will resonate with businesses reluctant to accept foreign money because they are not sure of the current exchange rate, the exact value of the foreign money tendered or the record-keeping requirements. Oervind takes care of those issues, telling the merchant how much change he should give back, storing a copy of the transaction and providing a printable receipt for both the merchant and the customer.
While the number of currencies used around the world is shrinking as countries consolidate their currencies, Oervind founders believe that the system could one day become a part of individual transactions around the world. And Boniface believes that accepting cash from foreign customers will soon become commonplace for even small businesses.
###