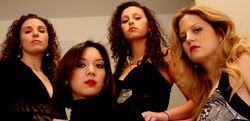 It's exactly the sound I imagined when I was first writing the pilot.
Boston, MA (PRWEB) September 2, 2008 -
‐ Last year Massachusetts‐based production company F.R. Perro Films went head‐to‐head with Hollywood. At the dawn of internet television, content is king, and F.R. Perro Film's latest series High Heel Samurai packs a punch! The growing company produced 42 webisodes of drama and high kicking action in High Heel Samurai's first season, and with a little over a year's time online, the innovative web series has developed a worldwide audience. "With over 30,000 hits a month, and no advertising budget to promote the show, our web adventure is doing quite well," says Deborah Perro, the series' producer. "We have a growing audience, and a cast of over 50 New England actors," says Perro, "we license most of the original music from local Massachusetts bands." Producing the series is an adventure for the indie production company and, in the film friendly state of Massachusetts, F.R. Perro Films plans to continue growing its online media offerings.
High Heel Samurai is an action‐drama about four gorgeous girls who started underground fighting competition in the streets of Boston. In season one there were the thrills of the fight, in season two there will be consequences. The new season launches on Wednesday, September 3, 2008 at 11:59 PM at highheelsamurai.com. High Heel Samurai was created by Chip Perro and Rick Perro. It stars Lauren Guglielmello, Sam Pannier, Mia Van de Water and Judith Kalaora.
One fan from London, England, Composer Cole Toury is part of the growing overseas audience. Toury had a melody in his head that he just couldn't finish, and when he discovered the action/drama series High Heel Samurai online, it gave him the inspiration he needed to go back and complete his work. With the song recorded, Toury sent it to the High Heel Samurai producers to see if they thought it would be a fit for the show. He had read that that F.R. Perro Films licensed original works from local New England bands, but he wasn't sure if the Boston‐based company would consider licensing music from an overseas composer. Toury's favorite director is David Lynch of Twin Peaks fame, and what he likes best about High Heel Samurai is that the characters do exciting things as though they were ordering a cup of tea. As Toury puts it, "The show paints a picture for me. The most important thing in the studio is mood." When series creator, Chip Perro, listened to Toury's song, he was blown away. "It's exactly the sound I imagined when I was first writing the pilot." The song was quickly licensed, and will be introduced in the second season of High Heel Samurai.
About High Heel Samurai:
High Heel Samurai (http://www.highheelsamurai.com) is an online broadcast‐quality television series filmed in the Boston area. The series follows the lives of Mia, Tori, Sophie and Catia, four strong women who disregard the rules and live the way they want to live. When Mia Tallatetto decided to revive her father's illegal underground martial arts tournament, she didn't know how hard it would be. Along with her two closest friends Catia and Sophie, and younger sister, Tori, the High Heel Samurai take to the streets of Boston in a yearly martial arts tournament that has fans tuning in every week for the drama, the fights, and style that only four gorgeous knockouts can deliver!
STARRING: Lauren Guglielmello, Judith Kalaora, Sam Pannier, Mia Van de Water, Brandon Stumpf and Drew Cooper
CREATED, WRITTEN AND DIRECTED BY: Chip Perro & Rick Perro
PRODUCED BY: Deborah Perro
Filmed on location in historic Boston, season one, offers 42 all‐new original programs. Season two premiers online on September 3, 2008 and will have 72 all‐new original webisodes.
About F.R. Perro, Inc.:
Natick, Massachusetts‐based film production company, F. R. Perro Inc., produces original fictional works from material developed in‐house. Established in 2004, the company produced a feature‐length high school comedy, Remedial Attraction in 2006. An innovator in developing and producing broadcast‐quality online television content, F.R. Perro is premiering season two of High Heel Samurai in September 2008. High Heel Samurai is the first in a series of broadcast quality programs available for consumers on PCs, cell phones and other wireless devices. Two other series - Shades of Ryan, a provocative "inner comedy," and Cooking to the Max, a live‐action cooking show featuring master chef Mitchell Maxwell are in production. Season Two of High Heel Samurai will premiere on September 3, 2008. These programs are designed to meet the expectations of consumers who want original broadcast‐quality entertainment that are accessible on demand on the internet.
###