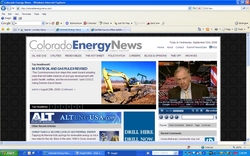 Colorado should be a model for the world and the U.S. of what can be done in a state when everyone teams up to push for clean energy
Basalt, CO (PRWEB) September 9, 2008
Colorado is ground zero for energy development in the 21st century, and now the companies and organizations that are helping propel it forward will be recognized in a new Energy Leadership Series sponsored by Colorado Energy News.
ColoradoEnergyNews.com delivers the most comprehensive coverage of the business, politics and technology of the state's rapidly growing energy industry, including the latest developments in oil and gas, renewables and power generation. The website includes streaming video channels with energy-specific content, including Going Green, Pain at the Pump and Bloomberg Energy News.
"From traditional oil and gas developers on the Western Slope to new solar and wind power projects along the Front Range, Colorado-based companies are creating thousands of jobs and contributing to the state's emerging position as a leader in both traditional and new energy markets," says Executive Editor, David Hill.
Natural gas development has become a major energy driver in the Rocky Mountains and Colorado in particular. Piceance Basin in the western part of the state is one of the largest gas fields in the country, fits in perfectly with T. Boone Pickens' ambitious plan to reduce America's dependence on foreign oil. With the state's boom in gas production has come public policy and environmental issues, which visitors to ColoradoEnergyNews.com can read about daily. The Colorado Oil and Gas Conservation Commission is addressing many of these issues by developing new rules for oil and gas operations in the state, scheduled to become law this fall.
Another important story reported in Colorado Energy News is the Ritter Administration's drive to attract renewable energy investment, which is paying off with companies, such as Swedish wind turbine manufacturer Vestas, constructing new facilities along the Front Range and adding hundreds of jobs. "Colorado should be a model for the world and the U.S. of what can be done in a state when everyone teams up to push for clean energy," says Roby Roberts, senior vice president of external relations for Vestas America.
State law requiring large utilities to generate 20 percent of their electricity from solar, wind or biomass sources by 2020 is another key factor propelling Colorado's new energy economy. Xcel Energy, the state's largest utility company supplying more than 70 percent of the electricity, appears on track to meet the target with several years to spare.
Adding to a highly favorable environment for energy development is Colorado's rich academic tradition. The state is home to several prominent energy-related education and research institutions, including the National Renewable Energy Laboratory in Golden; the Colorado School of Mines; Colorado State University, which has a major alternative energy curriculum; and Colorado University in Boulder.
"With our Energy Leadership Series, Colorado Energy News is shining the spotlight on those organizations making a difference in our economy and quality of life," explains Hill.
"As Colorado goes, so goes the nation. It is an exciting time to be involved with energy and we look forward to sharing with our readers the cutting edge companies that are helping Colorado lead the way in energy solutions."
###