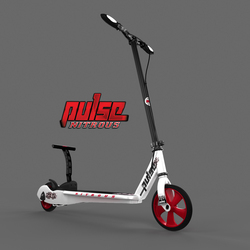 Santa Fe Springs, CA (Vocus) September 2, 2008
Pulse Performance Products, a division of Bravo Sports, the world leader in the production of wheeled toys and action sports products, announced today the release of its next generation Pulse Kick 'N Go, the Pulse Nitrous, a lighter version of their popular Pulse Xcelerator scooter. The smaller Nitrous has been scaled down for children ages 5+ answering the demand by both consumers and retailers for a Pulse Kick 'N Go scooter for younger kids. Pulse Performance Products set out after the release of their flagship Xcelerator model to down-size the drive-train for the Nitrous which also uses a new bike style hand lever operated scrub brake. The original Xcelerator Kick 'N Go was engineered for tweens and teens with a heavy duty chromoly frame, band style braking system, and large high-performance wheels.
Both Pulse Kick 'N Go products are contemporary reincarnations of the original Kick 'N Go scooter made famous during the early 1970s. This modern two-wheeled version of the classic kids racing machine offers a markedly faster and smoother ride; new high-tech gearing; finger lever controlled brakes; and contemporary design features including a high performance Chromoly steel frame and state-of-the-art, high-speed polyurethane wheels.
About the Pulse Kick 'N Go
Unlike traditional scooters that require constant pushing off the ground, the Pulse Kick 'N Go uses a proprietary chain driven kick lever propulsion system that allows even the most novice of riders to accelerate and maintain speed without ever touching foot-to-ground. The ease of use is extraordinary allowing first time riders to jump on and go. The Pulse Kick 'N Go represents the next generation of wheeled products to offer transportation, fitness and perennial fun in a physical outdoor activity for kids of all ages.
The Pulse Nitrous is available in three color combinations: Stealth Slime (Black/Green), Pearl Nite (White/Black/Red) and Punk Pink (White/Pink/Black) and retails for $89.99 at major toy and sporting goods retailers nationwide. For more information about Pulse products visit http://www.pulsekickngo.com.
# # #