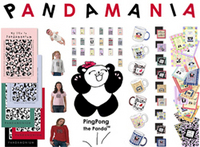 People always like new things and I want to bring smiles to panda fans' faces with Pandamania cards and gifts!
Irvine, Calif. (PRWEB) September 3, 2008
The giant panda bear is among the world's most protected and adored rare animals. Its enthusiasts now have the new originally-designed Pandamania product line which also includes magnets, porcelain mugs and posters. All items feature PingPong the Panda™, a roly-poly sweet-natured cartoon panda bear who loves to dance, as well as to eat chocolate.
The product themes are Humor, Birthday, Thank you, Encouragement, Thinking of You and Get Well, and mirror PingPong the Panda's lovable, thoughtful nature. The designs use vibrant colors and are expressed in a playful style. Some examples include a group of pandas running helter-skelter on a striking red ladies shirt ("My life is panda-monium"), a multi-hued birthday card displaying PingPong the Panda™ in a party hat "bearing" a gift, and a pastel paisley porcelain mug expressing appreciation for friends. Posters also feature the "My life is panda-monium" motif and other designs for students' rooms. Pandamania products are part of the Computious® line and may be purchased at Computious.com Pandamania.
The new gift line reflects the perennial interest in the endangered bear with the endearingly round face, black-patched eyes, pug nose, and cuddly toddler movements. The success of this summer's Dreamworks movie 'Kung Fu Panda,' the many thousands who have visited the eight "Olympic pandas" in Beijing, and Disney's investment in the upcoming Chinese movie 'Touch of the Panda' indicate our continued enchantment with pandas. "People always like new things and I want to bring smiles to panda fans' faces with Pandamania cards and gifts!" exclaims PingPong the Panda.
Background on the Characters and the Creator:
PingPong the Panda™ is kind and sensitive and possesses a healthy appetite. Like her real-world counterparts, she eats ample amounts of bamboo (preferably stir-fried). Unlike them, she thoroughly enjoys chocolate. She also favors hula dancing for fun and exercise. A panda of many giggles and words, she even pens entries at the Computious® website blog.
PingPong is part of a "family" of cartoon characters whose leader is Computious® - The Everyday Sage of the Digital Age! Human characters include DotComplicated™, a friend who makes things, well, complicated; Serge deFault™, a likeable geek suffering from weak social skills; and MeiMei™ ("little sister" in Mandarin). Animal friends include C.C. the Cat™, who is curious and cranky; Elman the Elephant™, a gentle worrywart; and Sweet & Sour the Pig™, who wears a bowtie and loves naps.
Marie Meade created Computious® while studying in Taiwan (she is half Chinese). Upon return to the United States, she placed the greeting-card line in retail outlets across 31 states and Canada. Today, the Computious® line includes more than 330 gifts and products at Computious.com. Customers can personalize products with names and messages, and most items are created within 24 hours and ship the following day.
# # #