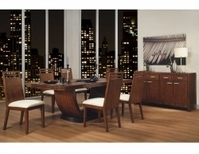 We value our customers' time and want to provide them with the richest shopping experience available. By leveraging the power of Mercado, we are providing them with exactly that
East Brunswick, NJ (Vocus) September 2, 2008
Homelement (http://www.homelement.com )-- a leading retail supplier of stylish, elegant home furnishings -- is proud to announce that it is partnering with Mercado (http://www.mercado.com) to provide consumers with the most robust and relevant search results possible.
Mercado specializes in search, navigation and merchandising solutions and is the only company in the sector who is 100% focused on e-commerce. Mercado has been in this space longer than any other vendor and as a result is at the forefront of igniting the connection between people and products.
By partnering with Mercado, Homelement will provide their site visitors with a wide range of advantages. Visitors find only relevant products and avoid receiving 'no results found' searches. With Mercado's strong browse and refinement option, users also avoid receiving an overwhelming amount of search results. Mercado's cutting-edge technology allows for strong linguistic capabilities, including synonym creation, misspellings, common phrases, phonetics, plural vs. singular—as well as consistency of search results whether someone utilizes the site's search box or just casually browses.
Homelement will see many benefits on their side, as well. Mercado's rich features virtually eliminate site abandonment. Revenues will increase because of easily-executed merchandising strategies like cross-selling, customized landing pages, auto-ranking and multivariate testing (MVT). Homelement will now also be able to act on integrated data from search, analytics, ERP, and CMS, to optimize search and merchandising—all via one easy-to-use business console.
Mercado's clients include powerful etail brands like Sears, Macy's, REI, Williams-Sonoma and Overstock.com. Mercado has been recognized by industry analyst firm Patricia Seybold Group has having the most advanced merchandising interface available on the market.
"We value our customers' time and want to provide them with the richest shopping experience available. By leveraging the power of Mercado, we are providing them with exactly that," states Joice Tan, Operations Manager for Homelement.
"Homelement.com is a great example of the new breed of eCommerce – one that understands what its customers want and how to connect them as quickly as possible with the right products," commented Mark Tuyay, Product Marketing Manager at Mercado. "Their site does a great job of using merchandising to engage shoppers from the initial homepage experience, and takes great advantage of browse refinements to guide shoppers quickly to a purchase."
About Homelement.com
Homelement.com is a leading retail supplier of stylish and elegant home furnishings with more than a dozen years of industry experience. Homelement has recently expanded their operations to a web-based platform that makes browsing and purchasing top-of-the-line furniture easier than ever. Homelement carries a wide selection of bedroom furniture, dining room furniture, and more from leading brands such as Homelegance, American Drew, Pulaski Furniture, and Hillsdale Furniture. Visit http://www.homelement.com for more information.
About Mercado.com
Mercado is a leading eCommerce solution provider, offering advanced product discovery and merchandising solutions to more than 400 multi-channel, pure-play & SMB Internet retail and B2B eCommerce brands in the United States, Canada and Europe. Mercado enables a rich shopping experience and equips eCommerce professionals with a powerful platform on which to execute merchandising strategies and ignite revenue growth. As a result of deploying Mercado's software and on-demand solutions, online retailers commonly realize immediate and significant increases in both conversion rate and average order value (AOV). Macy's, Arcadia, Overstock.com, Ted Baker, Williams-Sonoma Inc., Sears Holdings Corp., Argos, OfficeMax, GUESS?, Inc., REI, and B&H Photo-Video are some of the online businesses who have partnered with Mercado.
###