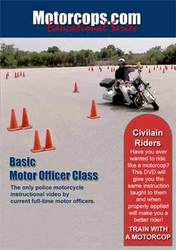 I had always admired how well my local motorcops rode, so when I heard about this DVD, I had to have it
Dallas, TX (PRWEB) September 5, 2008
Motorcops.com announces the first DVD -- Basic Motor Officer Class -- in a new line of motorcycle educational training videos. "With the high cost of fuel, there are many new motorcycle owners that haven't gotten proper training. Although this DVD is meant for police motorcycle officers, civilian riders will get a lot out of this DVD," said Mark Kopang the owner of Motorcops.com, the number one web site for police motorcycle officers.
The 90-minute DVD includes approximately 30 minutes of classroom instruction and 60 minutes of field training. During the classroom portion, you're introduced to riding concepts and then you see these concepts put into practice during the field training.
"I had always admired how well my local motorcops rode, so when I heard about this DVD, I had to have it," said Chip Green, an avid motorcycle rider in Ladson, South Carolina. "I really liked the classroom lecture and then taking those concepts to the field training. I learned a lot but most importantly, I saw how I was making mistakes in braking, so this training video really helped me to be a better rider," Green said.
The nationally certified instructors Rob Grimsley and Timmy Glover, both motor officers with the Charleston County Sheriff's Office teach you:

The 5 basic riding techniques for motor officers
Proper Braking - using 100% braking
The use of Counter Steering and Curve Negotiation
Correctly mounting and dismounting
Picking up a down motorcycle
How to ride in a confined space
How to navigate through cone patterns
Inline cone weave
Offset cone weave
The 360 and 540
The Intersection
"All motor officers, especially newly assigned officers should have this DVD in their educational library," said Rob Grimsley. "There are many tips in the classroom segments and safety reminders, like properly mounting and dismounting your motorcycle during the field training," Grimsley continued. "You'll want to frequently review this information to help keep you riding at your best."
"This is the only training video out there by current motorcycle officers. If you want to be a better rider, this DVD is a must have," said Kopang. "Also Motorcops.com will be offering live training classes for motor officers and civilian riders."
You can train with a motorcop by ordering a copy of the Basic Motor Officer Class or signing up for a class on the Motorcops.com web site. http://www.motorcops.com/es
Contact:
Mark Kopang
MK Media, LLC
Box 601238
Dallas, TX 75360
Phone: (214) 868-1866
Fax Number: (214) 827-5592
mark@motorcops.com
http://www.motorcops.com
###