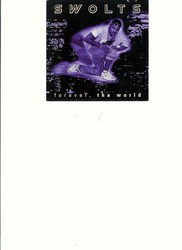 The Best G-Funk Album Ever.
Chicago, IL (PRWEB) September 2, 2008
G-Funk has emerged again! Chicago's G-Funk pioneer Swolts has exploded worldwide. Swolts "Forever Tha World" CD has been called "The Best G-Funk Album Ever."
This CD is strongly influenced by funk and live musicianship. Swolts and his producer Eddie "Sea" are true pioneers of Midwest G-Funk!
Ghetto Tales and Party Music fused into one G-Funk masterpiece! This CD will never play out ever! You can play this CD any and everywhere...Swolts tells from his soul! Eddie "C'" production is flawless...True Funk Bass lines, serious funk guitar, and endless Moog lines...it's bound to make you move and feel good! With some of the world's best musician's assembled, sultry singers, and Swolts delivery you can't go wrong.
Grooves like Dr Dre, but with real players playing, this cd has a mix of smooth music, party music, funk, jazz elements, etc. Swolts has the power of Tupac and the smoothness of Snoop..
Hailing from the streets of Chicago this has risen out of the ashes!
Stores in Japan, France, Germany, Italy, etc. Many Stores and fans have found us and we are selling throughout the world!
Real music with real people playing will never die out, Swolts is the prime example of this.
Chicago's True G-Funk Pioneers "Swolts and producer Eddie "C."
# # #