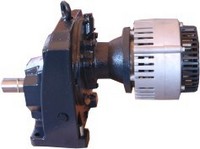 Electric Boats are as simple to drive and operate as an electric car. Just turn them on and they go.
Santa Barbara, CA (PRWEB) September 14, 2008
Above the Waterline's New Electric Drive revolutionizes sailboat propulsion. These drives are quieter, smoother, and more powerful than any diesel. Power is available at the flick of a switch...there is no waiting for an engine to start and warm up. Rapid acceleration, braking and accurate slow speed control improve docking and piloting. The motor can run continuously at 4.7 KW and can surge to 9 KW for collision avoidance, an important safety feature. ATW drives have extended range capabilities.
"Electric Boats are as simple to drive and operate as an electric car. Just turn them on and they go."
ATW electric drives improve your environment by minimizing or eliminating your exposure to fuel vapors, exhaust, vibration and sound. The electric motor becomes a generator and regenerates your batteries as you sail. Recharging batteries is easy with solar, wind, or shorepower. "Finally a sailboat drive as zen as sailing itself."
ATW electric drives feature maintenance-free and highly efficient, brushless, permanent magnet, DC motor technology. Three different packages are available. The Sailor is for daysailors and all-electric purists; The Racer is for the weight conscious racing boat; The Cruiser is a diesel-electric hybrid. All packages include Odyssey Batteries which last longer and recharge faster than regular batteries.
THE SAILOR package includes almost everything you need to convert your gas or diesel sailboat to electric drive. The Sailor is easy to install within your existing engine compartment. The Sailor package costs less than a diesel engine of equivalent power. An optional jackshaft allows installation without replacing the propeller shaft or pulling the boat out of the water.
The Sailor is suited particularly well for daysailors. Experience the joy of owning an electric sailboat...the mystical quality of moving silently...the fishing advantages...power tacking...electric motor sailing in light air conditions...the availability of power on demand....
There has never been a better time to upgrade to environmentally friendly electric propulsion.
THE RACER is a lightweight version of The Sailor. The racer is intended to power an inshore racer to and from the racecourse. The start and house batteries are combined into one battery for propulsion and house loads. Batteries can be mounted in positions that help balance the boat, or low for better righting moment. Raceboats can shed over 200 pounds of weight with an electric drive installed with Lithium Ion batteries. The Racer is so light that your race handicap will change. Ultra fast electric sailboat races are now on the horizon. Get ready for your new sailing adventure with The Racer.
THE CRUISER features everything found with the Sailor plus a POLAR DC MARINE GENSET. POLAR DC MARINE gensets can recharge Odyssey batteries over 5 times faster than a conventional alternator and batteries. The large batteries, when used for house loads, reduce engine run frequency. The POLAR DC MARINE GENSET can be mounted outside of the living spaces of the boat. The genset can be located in the best position for weight distribution and balancing of the boat. An optional sound enclosure makes this hybrid much quieter and more economical than traditional diesel engines.
Imagine having power on demand and not having to wait to start your engine. Or being able to motorsail quietly, letting the electric motor create apparent wind across your sailplan. Or power tacking in low wind conditions to avoid being stuck in irons. Electric motors will turn your propeller slower than 20 rpm for precise control while docking. House loads can utilize the larger battery bank which can last longer before recharging. Electric propulsion is clean, environmentally friendly, powerful, and more user friendly than any other form of propulsion. Above the Waterline's electric drive packages make the transition to electric propulsion easy and affordable.
For any additional information on our products or services please visit our website at ABOVE THE WATERLINE or contact us at 805 455 8444.
###