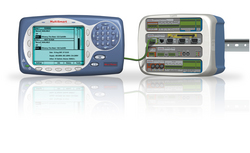 The first thing that caught my interest with the MultiSmart units was the ability to adapt a single device to multiple pumping station needs
Boca Raton, FL (PRWEB) September 2, 2008
Smaller utilities, especially those with under 20 lift stations, often have to settle for very limited monitoring and control in their SCADA system. It is common to find only a few points of data per station, effectively reducing the SCADA system to little more than an expensive alarm dialler. Outpost2 demonstrates a new approach, with 400-500 tags per site, and advanced remote control.
Phil Pickering, District Superintendent for Ogunquit Sewer District, said that it was the MultiSmart pump station managers which first appealed to the district.
"The first thing that caught my interest with the MultiSmart units was the ability to adapt a single device to multiple pumping station needs," said Pickering. "The next interesting feature was the ease of operation with the walk through menu-based controller with detailed instruction on what each parameter is doing. This makes training operators and maintenance personal simple as well as our plans of having all stations with one type of controller helps keep personnel familiar with changing in the field or by SCADA."
"Lastly the vast amount of details the SCADA system provides on the operation of our station like the number of pump starts per hour/day/week, pump run time in minutes per hour/day/week, flow into station, pump rate gpm - gpd, power monitoring, complete fault logs with time & date stamp. This amount of information put into a simple to read daily report gives a facility peace of mind that each pump and station is doing its job.." continued Pickering.
MultiSmart and Outpost2 are fully open, using open protocols like DNP3 as well as OPC and ODBC at each level of the system. This ensures that end-users always have the option of choosing new components to add into their system and new providers to support them.
Steve Carson, Group Marketing Manager, said, "By designing a SCADA package around the MultiSmart capabilities, MultiTrode has provided a solution that any utility can afford. The MultiSmart pump station manager provides a necessary and welcome standardization in lift station networks. As a result, other SCADA providers and 3rd party toolkit companies are in the process of designing off the shelf solutions around this product. This is something we welcome and encourage."
###