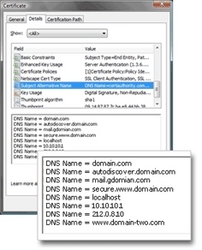 With IT budgets being more carefully controlled than ever, GlobalSign's new offering allows organizations to better manage the costs associated with securing their servers and communications
Portsmouth, NH (PRWEB) September 4, 2008
GlobalSign Inc (http://www.globalsign.com ), a specialist in SSL Certificate security, today announced a "secure everything / multi-domain" option for its SSL Certificate range -- by using SANs (Subject Alternative Names), it allows a single Certificate to secure dozens of domain names, subdomains, IP addresses or intranet hostnames. The new Certificate option provides increased flexibility, easier Certificate management and lower costs for customers. To launch the new product, GlobalSign includes the ability to secure critical functions for Unified Communications on Microsoft Exchange 2007 and Microsoft Communications Server 2007 completely free of charge.
As the most flexible SSL offering now available, GlobalSign's new SSL product allows customers to build a single SSL Certificate that secures multiple sites, applications or functions operating on the same IP address. These could include:

Domain names (such as http://www.abc.com, http://www.abc.co.uk , xyz.com)
Multi-Level Subdomains (such as subdomain.abc.com or multi-level sub1.sub2.abc.com)
IP Addresses (both internal and public)
Localhost Names (such as local -- typically used in intranets)
Included also is the ability to secure the communications functions of Exchange 2007 and Communications Server 2007 (Unified Communications, or UC) that hinge around the use of a single IP address. As a new GlobalSign multi-domain SSL Certificate requires only one IP address, it can protect all confidential communications over HTTPS, SMTP, POP/IMAP and other protocols offered through UC. As a launch promotion, GlobalSign is adding UC capabilities to its SSL Certificate range free of charge -- for example the company's DomainSSL with UC capabilities is priced at $199 -- making it the most cost effective SSL Certificate with strong security that can secure UC available today.
"With IT budgets being more carefully controlled than ever, GlobalSign's new offering allows organizations to better manage the costs associated with securing their servers and communications," says Steve Waite, Marketing Director GlobalSign, "as multiple IP addresses are not needed, this new Certificate enables organizations to secure such servers and communications that would otherwise remain insecure due to IP address availability issues."
Waite continues, "Server administrators also benefit from a reduction in the time usually associated with the SSL application, installation and renewal processes, leaving them with more time to focus on the organization's other critical security matters."
The addition of "secure everything" support further enhances the feature rich GlobalSign SSL range. Other key features include promotional 3 for 1 server licensing, free inclusion of Server Gated Cryptography (SGC -- to step up weak 40 bit browser to server connections to strong 128 bit), and universal recognition by all popular browsers, applications and mobile devices. GlobalSign also recently introduced AutoCSR, a time saving function that creates a customer's CSR on their behalf during the application process allowing anyone of any technical ability to obtain SSL easily.
The new SSL option is available immediately on all GlobalSign SSL Certificates -- including DomainSSL, OrganizationSSL and Extended SSL (EV SSL). It is available to all retail and channel partners, and available through the Enterprise Certificate Center for SSL Managed Server customers.
Visit the GlobalSign SSL Certificate Center for more information -- http://www.globalsign.com/ssl/index.htm.
About GlobalSign
Established in 1996 and as a WebTrust accredited public certificate authority, GlobalSign offers publicly trusted SSL, including Multi-Domain SSL, EV SSL Certificates, S/MIME and Code Signing Certificates for use on all platforms including mobile devices. Its Trusted Root solution uses the widely distributed GlobalSign Root CA certificates to provide immediate PKI trust for Microsoft CA and enterprise CAs, eliminating the costs associated with using untrusted Root Certificates. Its partnership with Adobe to provide Certified Document Services (CDS) enables secure digitally signed PDF e-documents. These core Digital Certificate solutions allow its thousands of customers to conduct secure online transactions and data transfer, distribute tamper-proof code, and bind identities to client certificates for email security and remote two factor authentication. The company has a history of innovation within the online security market and has offices in the US, UK, Belgium, Japan, and China.
About GMO Internet Group
GMO Internet Group, headquartered in Japan, is a leading force in the Internet industry offering one of the most comprehensive ranges of Internet services worldwide. The group holds top domestic market share in domain registration, web hosting, and payment processing and provides a host of other Internet services including global online security services, e-commerce solutions, and Internet advertising to both businesses and individuals. At the centre of the group is GMO Internet, Inc. a company listed on the prestigious first section of the Tokyo Stock Exchange (TSE:9449). Please visit http://www.gmo.jp/en for further details.
# # #