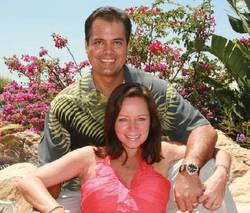 we're not giving them fish, we're teaching them to fish for themselves
Weatherford, Texas (PRWEB) September 2, 2008
The Dream Team announces today that Jay Jolly and Michelle Breuer, the two Founders of the Dream Team, were so honored and overjoyed to finally meet Jim and Sherri Wear, the two Founders of LifeMax, at the LifeMax Leadership Meeting on Friday, August 15, 2008 in Orlando, FL They were very impressed with the LifeMax product and the direct sales business opportunity. But the thing that took Michelle and Jay over the top is Sherri and Jim's vision to "Feed the World" via the LifeMax enterprise. And, as Sherri and Jim so aptly say, "we're not giving them fish, we're teaching them to fish for themselves".
When Jay and Michelle heard Sherri and Jim speak at the meeting, they were so touched that it brought tears to their eyes. It would seem that Jim and Jay have at least one thing in common; they are both "hopeless romantics". And when Michelle and Jay then had the opportunity to speak to Sherri and Jim personally, well, the result was even more touching -- all four of them were in tears.
Together Jay and Michelle formed the Dream Team where their mission is to "Pay It Forward" (see the movie by that name -- it's a must see) by touching the world in a brand new way: "Is it possible, for one idea, to change the world?"
Michelle and Jay firmly believe it is possible for one idea to change the world. Sherri and Jim's vision is the amazing catalyst that has the greatest potential of everything Michelle and Jay have seen to unite all the great visionaries out there (e.g., Mark Victor Hansen, Jack Canfield, Joe Vitale, Warren Buffett, Bill Gates, Paul Newman, Oprah Winfrey, etc.) behind a single cause everyone surely can support: Changing the world by feeding the world with the super grain, Salvia Hispanica L.
As the four of them discussed, there is an awakening happening. As Paul Zane Pilzer says in his book, "The Next Millionaires", there is a convergence of three great catalysts:
1) The power of the Internet
2) The Wellness Revolution
3) Direct sales network marketing industry
The Wears and LifeMax capitalize on all three. Michelle and Jay are so overjoyed with the potential for everyone to do some really wonderful things together, positively influencing the world with uncompromising integrity and authenticity.
Michelle and Jay highlighted to Jim and Sherri that they are writing a book and developing audios on "Pay It Forward" whereby they interview key leaders on their own version of giving back to the world. All the profits from the book, audios, and any other distribution approach will be donated to charity by the Dream Team Foundation.
About The Dream Team:
Purpose. Founded in 2007, The Dream Team is a partnership between Michelle Breuer of Canada and Jay Jolly of the United States with their enterprise based in Weatherford, Republic of Texas. The Dream Team's purpose is to inspire and empower others to success, happiness, and freedom… financial freedom, health freedom from distress and disease, and spiritual freedom. The Dream Team awakens people to the need to escape from the "rat race" of the J.O.B. (just over broke), working from paycheck to paycheck, and instead enter the "fast lane" of business ownership and investing.
The key factor is "leverage", leveraging other people's time, support systems, and capital to create multiple streams of income and ample time to do whatever inspires a greater purpose, for everyone has special purpose for being here. The Dream Team's ultimate goal is to inspire unbridled wealth, health, and like-minded spirit in others by empowering them to create the "lifestyle of their dreams" so that they may then "Pay It Forward". And it must be done with balance among body, mind, and spirit. Realize the lifestyle of your dreams by joining the Dream Team's mission to achieve the ultimate goal -- freedom of choice -- the ability to choose whatever to do with the precious time remaining on this most glorious planet with the greatest of health and clarity of purpose.
Enterprise:
The Dream Team's enterprise includes:
a) Viral Prospector universal network marketing system,
b) Financial education, wealth creation, health, and personal empowerment products,
c) LifeMax Signature Grain™ exclusively offering the consumer the most bioavailable and efficacious form of Salvia Hispanica L. known. It is non-GMO, cholesterol-free, gluten-free, sugar-free, pesticide-free and contains no trans fat. Loaded with omega-3's, lignans, fiber, antioxidants and many other vital nutrients, the Signature Grain™ offers a variety of opportunities to improve overall health and well being.
d) Presenting seminars throughout North America on The Dream Team's products and services.
Contact:
The Dream Team may be reached at lifestyledreamteam @ gmail.com or by calling (604) 820-7929.
For more information on the Dream Team and philanthropy, see http://www.dreamlifestylefound.com.
For more information on LifeMax Signature Grain™ see LifeMax Signature Grain.
###