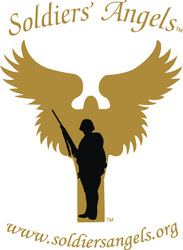 Our mission is bringing comfort and encouragement to the young men and women who left their homes and families and put their lives at stake every day defending our way of life
Pasadena, CA (PRWEB) September 4, 2008
Soldiers' Angels and author Michael Yon proudly announce they are partnering to give copies of Moment of Truth in Iraq--Yon's bestselling book celebrating American soldiers' stunning achievements in Iraq--to those very soldiers still stationed in Iraq.
"Our men and women in Iraq changed the course of history" says Yon, a former Green Beret who has spent more time than any other journalist embedded with combat troops in Iraq. "They did it against all odds, contrary to all expectations. They lived through fifteen-month deployments, multiple combat tours, often re-enlisting instead of going home to their families, watching snipers shoot their friends, and IEDs tear bodies apart. I am in awe of their achievements, which I am proud to have documented in Moment of Truth in Iraq."
"Now I just want as many soldiers--and their families--as possible to be able to read the book and know that their fellow Americans do honor and understand what they have achieved. So I am asking all my readers and supporters to join in this campaign to show our appreciation."
Among its many other activities in support of America's military and their families, Soldiers' Angels, a non-profit organization, sends thousands of care packages to deployed personnel every month. Moment of Truth in Iraq will now be included in as many of those packages as possible.
"Soldiers' Angels is an extraordinary organization," said Yon. "Their slogan is 'May No Soldier Go Unloved.' Believe me when I say I know as well as anyone how important that truly is. I'm proud to be working with them on this project."
The founder of Soldiers' Angels agrees. "Our mission is bringing comfort and encouragement to the young men and women who left their homes and families and put their lives at stake every day defending our way of life," said Patti Patton-Bader. "In a time when it seems people are going out of their way to ignore our heroes or diminish their accomplishments, Michael Yon's book is a breath of fresh air; a genuine tribute to the American soldier. We hope every service member gets a hand on this book, just so they know there are people out there who have seen what they've done and appreciate the hard work they've done and the sacrifices they've made."
The project is dependent upon private donations, which can be made through the publisher Richard Vigilante Books. Contributors can donate one book for $10.00, five for $40.00, ten for $75.00, or thirty for $150.00.
Soldiers' Angels is a volunteer-led 501(c)(3) non-profit providing aid and comfort to the men and women of the U.S. military and their families. Comprised of 200,000 volunteer members in over twenty different teams and programs, activities include letters, care packages, and comfort items to the deployed, and support for their families at home. The organization also provides assistance to the wounded, continuing support for veterans, remembrances and comfort for families of the fallen, and immediate response to unique difficulties. See http://www.soldiersangels.org for more information.
###