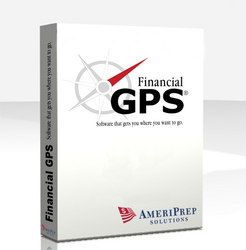 When we launched Financial GPS ® in 2007, we didn't forget the Spanish-speaking community. We wanted to help America, and to do that we had to tailor our product to a culture that accounts for such a large part of our country
Grand Rapids, MI (PRWEB) September 3, 2008
AmeriPrep Solutions ® LLC offers its computer software, Financial GPS ® 2.1, to the Hispanic community. "When we launched Financial GPS ® in 2007, we didn't forget the Spanish-speaking community. We wanted to help America, and to do that we had to tailor our product to a culture that accounts for such a large part of our country," quoted Ayin Valdes, vice president of international marketing.
Since its inception in 2007, Financial GPS ® has provided users the ability to identify financial objectives in the privacy of their own homes. With the help of educational video tutorials, Financial GPS ® allows users to plan for retirement, identify debt pay-off tactics, and track spending and saving habits. It focuses on fiscal responsibility and promotes proper budgeting and saving to help users reach specific goals.
"Will I run out of money before I run out of life? Many people ask themselves this question and Financial GPS ® gives them the answer. Our users don't even need to know anything about finances because we teach them the steps they need to take to reach their goals. That's what makes our software so powerful," stated director of marketing, Matt Eilers.
The creators of Financial GPS ® believe people need to be educated and shown how things like credit card debt can be dangerous to their long-term financial goals. "There are too many people that are accustomed to asking what the 'monthly payment' is as opposed to how much a product actually costs," quoted vice president of sales, Brian Bartholomew. "Offering a tool that teaches financial literacy has been our objective since day one. Financial GPS ® is easy to use and that makes it the perfect tool," said Steve Eilers, vice president of information systems.
The English/Spanish version of the software is available in hard copy or for download via the website http://www.ameriprepsolutions.com.
AmeriPrep Solutions ® is a Grand Rapids, Michigan based corporation. Their flagship product was designed to help bring a conscious awareness to each individual's financial situation.
###