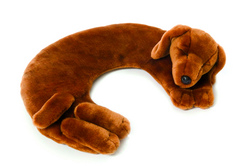 Even though we have been selling internationally for years, product development and growing domestic demand is our primary focus
Woodland Hills, CA (Vocus) September 3, 2008
Warm Whiskers LLC, the premiere maker of heatable animal-shaped pillow products in the U.S., announced today that it has signed an exclusive international export management agreement with Los Angeles based Romac Export Management Corporation. A full-service export management company renowned for developing international markets for U.S. manufacturers, Romac will assume responsibility for all aspects of sales, marketing, and distribution for the entire catalogue of Warm Whiskers products in all territories outside the U.S.
Warm Whiskers has been the industry leader in its category since the company's founding in 2000 and has focused most of its resources on expanding distribution throughout the U.S. despite an ever-increasing demand by overseas consumers and distributors. "Even though we have been selling internationally for years, product development and growing domestic demand is our primary focus," said David Sternlight, co-owner of Warm Whiskers. "We really needed a special partner, an export leader who we can trust to manage every aspect of international sales for us. Romac fits our criteria on so many levels beyond their outstanding reputation and all encompassing sales infrastructure. Their commitment to products that promote health and our mutual commitment to ethical, humane and sustainable practices make this new relationship ideal. There is no doubt that they will make the Warm Whiskers name as successful overseas as we already are domestically."
Sold into a variety of consumer goods channels including giftware, toy, health, spa, physical therapy, specialty, pharmacy, natural products and even pet, Warm Whiskers has developed an extensive line of animal shaped pillows and wraps that are as calming and therapeutic as they are cute and cuddly. Utilizing the comfort of natural, body conforming buckwheat, and scented with natural dried lavender flowers renowned for their aromatic calming effect, each Warm Whiskers product can be heated in a microwave to provide long lasting heat therapy that promotes relaxation and tension relief. A beloved companion for children, adults and even pets, Warm Whiskers products can also be cooled in the freezer for cold therapy or relief from a hot day. New additions to the Warm Whiskers catalogue include a pet product and a spa therapy line, both of which will offer an extraordinary level of market flexibility for Romac.
"One of the reasons why we are so excited about this partnership is that Warm Whiskers fits in so many different categories where we have very strong sales and retail relationships," said Romac CEO Roberta Best. "This premium made yet very affordable brand offers Romac both the flexibility and market focus that we thrive on. Warm Whiskers is also a very positive kind of rejuvenative product that improves the quality of life for our customers in a natural, healthful way. The result is a perfect embrace of our mantra -- fantastic customer loyalty and longevity."
About Warm Whiskers:
Warm Whiskers is the maker of the finest heatable relaxation and comfort pillow products in the world. They offer a comprehensive line of premium grain and herb filled body and eye pillows, neck and body wraps, and cozy slippers for all ages in plush fabrics and signature animal-shapes. Warm Whiskers also features a line of ultra-relaxing spa products in both plush and luxurious silk as well as a truly unique line of pampered pet products. All are filled with aromatic, all-natural lavender and body conforming buckwheat or flaxseed (smaller items). Both grains offer long lasting therapeutic properties when heated in a microwave or even chilled in the freezer to provide cool relief on a hot day.
Recognized for the powerful, rejuvenating qualities of their loveable and cuddly animal-shaped pillows since the company's introduction in 2000, each and every Warm Whiskers product is designed to be restorative for both body and soul. As wellness promoting as they are endearing, each pillow offers the time proven benefits of heat therapy, the calming aromatherapy of fresh cut Lavender and chamomile, and the ergonomically engineered shapes that closely hug the contours of the body to promote an extraordinary level of relaxation and relief from stress and tension.
As the industry leader in its category, Warm Whiskers prides itself both on the quality and functionality of their products and on being recognized by consumers and retail partners for providing exceptional customer service and attention to detail in both craftsmanship and business practices.
###