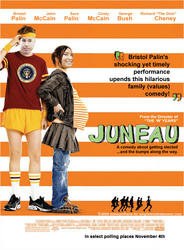 We want to do our bit to help educate all women about their options prior to pregnancy.
Phoenix, AZ (PRWEB) September 2, 2008
Underage pregnancy is no laughing matter. On the other hand, a vice presidential candidate who professes conservative values but has a pregnant teenage daughter has quickly become America's latest political gag line. Adding to the John McCain/Sarah Palin discomfort to this awkward situation is a newly released poster, created by SingleMindedWomen.com, that parodies the film poster from this spring's hit movie, JUNO. In the satirical version, now titled "Juneau," the movie's lead characters have been transformed into Republican presidential candidate, John McCain, and the seventeen-year-old pregnant daughter of his running mate, Bristol Palin.
In the blog post that accompanies the poster on SingleMindedWomen.com, Relationship Editor, Josie Brown, takes Sarah Palin to task for her parenting skills. "In this day and age, information about birth control can be easily accessed. While we applaud Bristol Palin's decision to have her child, we're left scratching our heads as to how her mother could have been out of the loop as to her daughter's pregnancy. Mothers and daughters need to talk about sex. And if, as in this case, abstinence is not the chosen option, they need to go a step further and discuss birth control as well."
Allison O'Connor, founder of SinglemindedWomen.com, is just as concerned about the significant after-effect of teen pregnancy: starter marriages. "Teen pregnancy is a very serious issue," explains O'Connor. "At the same time shotgun weddings, like the one proposed by Palin for her own daughter, are not a wise choice either. Seventy-five percent of marriages under the age of 25 fail. There is no shame in single motherhood. The Republican Party learned that 20 years ago, when Dan Quayle went after the TV sitcom character Murphy Brown. If they truly applaud a woman's right to carry her pregnancy to term, they should also support her right to do so without the added burden of marrying an ill-prepared teenage dad. After all, male ejaculate is not the equivalent of a marriage proposal."
SingleMindedWomen.com is donating net proceeds for the poster to Planned Parenthood, a non-profit organization which advocates sex education. "According to Planned Parenthood, some 750,000 teenagers will become pregnant this year, and at least one in four teen girls in America will have a sexually transmitted infection," explains O'Connor. "We want to do our bit to help educate all women about their options prior to pregnancy."
SingleMindedWomen.com offers an online community for single women, as well as articles filled with news, trends, insights and tips on the topics and issues relevant to single women, such as relationships, health, careers, family, single motherhood, fashion, beauty, travel and money.
Contact Allison O'Connor at 480-991-9109, or at allisono @ singlemindedwomendotcom for more information.
###